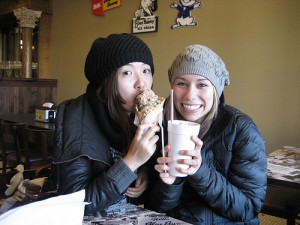 Sometimes life feels like a root beer float. You just don't know which direction to turn and whether to eat the ice cream first or suck out the soda and if you dawdle too long you're left with a half-flat syrupy melted mess of calories that makes you want to throw up.  Nobody likes wishy-washy. Be decisive: life is short and the world needs more leaders that can make decisions.
But sometimes it's like a banana split, where there's a healthy mix of fruit and flavor wedged in between.  But I never eat the banana and I can't stand strawberry ice cream so it's all just for show and you might as well ditch the ice cream altogether and go for yogurt with granola.  Or perhaps you could just dive right in with chocolate almond fudge and be sure to have a salad for dinner, drink water, and run on Tuesdays.  Be true to yourself: do what you love.
Oftentimes, I find life resembles vanilla.  Not the from-scratch version with condensed milk your grandmother used to make that can totally hold its own, but the generic kind that comes in a box that tastes a little bit like cardboard.  And as the days plod on you just eat it because, well, it's better to end with bad ice cream than have broccoli lingering in your mouth.  Some days are like that.  Be grateful for what you have: better days will come.
But there are times – oh the beautiful times – that resemble Italian gelato on a hot steamy night, when your breath is short and your hand brushes up against his and you feel so very lucky to be alive.  These moments might stay or they might vanish with the seasons of life, but let them roll around on your tongue so that you won't ever forget them.  Be reminded from time to time of these special memories, even if they disappear: at least you had them and took a little break from cardboard vanilla.
I hate the vegan frozen yogurt phases, when you try so very hard to do the right thing but it's all mucked up and funny-tasting and you just wish you could go back in time and just buy the damn sherbet.  You've wasted money and wasted time and it all feels so futile.  Be forgiving of yourself: we are all human and make mistakes and you need grace to start over.
And then there are the Sundaes, where things are sloppy and hot fudge is melting and we are all just lazy and droopy and sit around thinking of doing laundry but instead watch entire seasons of Homeland.  That's a good refueling time, and necessary to counterbalance our hectic pace, and sometimes we just need to sit and hold the people we love without getting all Italian about it.  Be careful to schedule time to rest and gather your strength for the race ahead.
The crazy thing about life is that we all have our own precious identities that we cling to and people get all weird about it, like if you're in Austin you go to Amy's but if you're in Upstate New York you might lick a cone at Stewarts and it's all good because it's ice cream, for freaks sake. Try new flavors and new stores and new ways to eat it.  It's fun and sweet and usually not eaten at funerals. Be creative: you might be surprised at what you'll learn about yourself.
In my sights ahead, though, is always a double scoop of gold medal ribbon and dark chocolate, because dreams are meant to be large and bold, and life should be lived with hope and expectations of great things to come.  If you constantly think Wednesdays will be filled with soupy floats there's no being friends with the likes of you.  The weekend is coming, my friend.  The taste of salted caramel and the smell of baked waffle cones and the thrill of what is yet to come is what we live for. Be bold: there are dreams to be realized, and lived out, and embraced.
Life is like ice cream, only better.  It's stressful, and at times we melt, but we can harden again.  We do not diminish but grow richer with time and experience.  There are so many colors and flavors to choose from, and ways to serve and enjoy them, and at the end we all go down smooth and mesh into the earth and our goal really should be to try to make a child happy on a hot summer day and have Jesus be pleased with our efforts. Be an example of a life well lived, full of richness and sweet.
Don't live life half-way. Ain't nobody likes low-fat buttered pecan. Trust me. Nobody. 
—
Photo:
http://www.flickr.com/photos/mrsdkrebs/6933384423/sizes/m/in/photolist-byFpCK-5hkCrr-3bWyVU-ow536-3bS7Tp-34aLuU-8zNN1q-atGn2m-atGpFb-atDHKr-atGoQ7-atDGck-atGoVq-atGnxU-atDJUz-atGpTs-atGpa9-atDK36-atDJmx-atGneJ-atDJNz-atDJAV-atGpeS-atDHpe-atDJ74-atDJFi-atDGND-atGnjN-atGoJd-atGorb-atGpmj-atDHBM-atGod3-atGo6f-atDH1H-agqsR9-cJTeAW-8cPxTs-8cLf2M-8cPxUf-8cPxRC-8cPxSG-6UK4iX-4dVuvo-9j4hTb-6TWSdi-ac2UXD-6kmHQ6-fjPwLR-fk4EQu-fk4EMf/