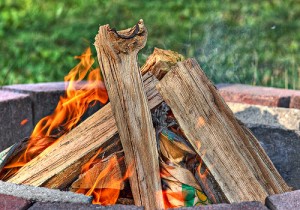 I abhor the ripping and tearing of lives.  The brokenness and isolation that comes along with One Who Has Lost Things.  I was a Grand Oak, I was.  Not some maple who burdened the land with the changing of color or a willow who drooped and swayed with a weary heart.  I was one who stood tall when others succumbed to rot or grew parched or sucked from the earth like a thorny Mesquite.  I offered shelter and always protected the home next to which I was planted.  I was a wind break,  you see.  An honored trunk of wisdom who saw all and bore all and kept digging roots deeper in the earth.  If you could only have seen me in my glory days.
So imagine my horror at the uprooting.  The condo development.  The cement trucks and white haze of caliche dust and sheetrock leaning against me like a foreboding call of death.  The contractor said he'd save me.  Swore to the city he'd built a fence around my body and erect little benches made of bronze.  He made promises it might still work, my years not spent in vain.  Children would still swing from my branches and my growth rings intact. But it was all a bald-face lie, one I didn't quite believe until the chainsaw ripped into my flesh and my branches were cut off.  Like a blow to my heart.  One by one they broke and for a moment they hung in the air spellbound, before landing in the trampled dirt where workers sauntered to lunch or took Dr. Pepper breaks and called their girlfriends.
It was there my pride fell.
I wake up now to a new reality.  I'm cut in neat little stacks in a grocery store floor.  You can pick up my soul, piece by piece, for $6.99 a bundle.  Some people do, but set me down again.  "Seven dollars to burn for a few hours time? Well, I'll be a fool," they say as they walk on by toward the Fruity Pebbles and cheesecakes, burgers and sodas.  And I am left weeping like the damn willow, remembering my former self.
I am not good at letting go.  I hold onto old pictures and handprint wreaths and have all kinds of problems letting friends slip away through the years.  I want to hold onto them like warm blankets, safe and folded, loved and cared for, put away in a cedar chest.  I want to hold onto a better time or a better place when secrets were yet unearthed and I was an oak who protected.  I want to go back to a time when I didn't believe anyone could really chop me down.
And yet sometimes we have to be stripped down to be built up again.  Ripped into bundles and packaged differently and oftentimes devalued in the world's eyes to realize what our true worth is.  A piece of wood cannot again become a tree, but it can light a glorious blaze of sacrifice, to be used to extinguish prayers one writes on slips of paper and needs to see forever burn.  It is as high a calling as any to be a vehicle for prayer. I've been there many nights, pouring my heart into words on paper that vanished between the fiery waves the oak provided. This is a worthy calling as great as a tree standing tall, for "we know that in all things, God works for the good of those who love him, who have been called according to his purpose." Romans 8:28.
Don't look backward. Let the past slip through your fingers like fine sifted sand, knowing that God will reshape, and reuse, and redirect into something magical. Your glory days are ahead.  Brilliant blazing bursts of light that will dance and spit and pop with fire.  I'd say that's better than an old dying life, staring at the bleached walls of a condominium.
Burn bright. It's what you were born to do. 
—
Photo:
http://www.flickr.com/photos/chefranden/235575105/sizes/m/in/photolist-mPogK-4Htf4e-dtzJcQ-6gPv2g-6gTDBj-6gTC2w-6gTH7A-6gPsyT-6gTGid-6bqTX1-6bqQnd-6bmEtB-6bmDKr-6bmH9Z-6bqLX5-9NXc6U-5jBh38-dL62Q8-dUvQLn-do5dgy-8Zh6B-dUBGWG-6WCQ8n-8p2Swq-dGJ7Jz-9QWSQn-52fjV5-aFRyQk-ahat2G-aroJrX-a25mgn-aroK6X-7nhvuE-5jBgVn-6UACpy-6UjqCm-6UfoxR-6UwzfX-fdzWD9-6UjqLN-6UfoXv-6UfoEa-6UjqeW-6UfoQc-6UfoLg-6Ujq5C-6UfowM-6Ujqt3-6UACkL-6UjqGw-6Ujqpb/