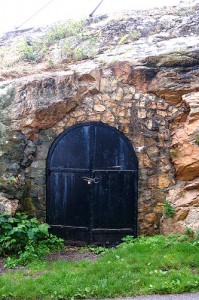 This girl can't pass up a good groupon, so when an Irish restaurant in town offered a four-course menu for four for $99, I ran toward the computer with my credit card in tow and snapped it up like last call.  Not that ye Irish are really known for their food, and I'll be honest about a vague stereotype I had trapped in my mind of a bunch of burly men in pubs eating Guinness rabbit stew, but still.  So when said groupon was about to expire, I gathered up three besties and we wore our St. Patrick's best. Come on, it'll be fun. They'll be potatoes.
So off we go toward this random restaurant set high on a hill like a movie set and as we pull into the parking lot and leave the vehicle I have a sense that we've grown ten feet tall and what's in front of us is really a hobbit's house or maybe a hovel for gremlins.  But we approach what appears to be Hansel and Gretel's cottage and open the creaky door, it opens to a front-porch-like haven of horrors with little dolls and St. Paddy's paraphernalia. My nostrils are hit with the smell of old-people's homes but with someone baking soda bread in a far-off forest. It's a confusing combination.
I start to back my way out, because perhaps we're in a dream and this place has swallowed up my children and there's no hostess stand or normalcy and why for the love are there so many dolls.  For a fearful moment I thought we stepped into Frodo's neighbor Marge's living room, who has been alive since well before Eisenhower. But alas – another door in front of us creaked open and my other girlfriends were in fact inside, perched at a table covered in lace.  They looked frightened, or maybe hungry for rabbit: hard to tell.  But there were normal-looking people inside, everyone just sitting around as if they were eating a blooming onion at Outback on a Tuesday. My friends waved and I sighed because if we are going down an Alice-in-wonderland tunnel at least I wouldn't be alone.
So there we sat in the hobbit house, trying to not hit our heads on the ceiling, just a simple table covered in lace.  My friend Jess kept wiping her eyes because the prices were all wrong and there was a bottle of wine on the menu for thirty-five thousand dollars and she thought maybe they laced the air with hallucinogenic drugs.  But alas the waitress came along, just a wee girl of fifty wearing a prairie dress with spitfire hair and told us that bottle of wine wasn't actually for sale. "It'll kill ya perhaps, young lassies, with all the air bubbles and such trapped inside.  But it's a family heirloom, yeh." So we decided to live and order the house red and the lady's voice said "Aye, a good choice," and the cadence of her voice rose and fell as if she descended from the streets of Dublin and I WAS TERRIFIED AND ENTHRALLED ALL AT THE SAME TIME.
So the courses began, and us girls all sat around giggling as the potato soup was served and we attempted small talk as if we are not all in a hobbit house sitting around a table covered in lace.  After a while my friend needed to use the restroom so she transcended into the bowels of the earth somewhere to the left and came back to the table as if she were having a life-threatening brain spasm. But in reality it was just the facilities, which included a green bathtub and a faucet connected together by strands of electrical tape and a cherub that looked out the window at nothing that overcame her. So my other friend Becca braved the dark and I offered to tie a string to her so she'd never get lost but she went in like a hero and took iphone pictures of the statute of a woman staring at your private places holding towels.
So between the salad and the beef they brought out a palate cleanser, but not the real kind, just lemon sherbet from Wal-mart, and we were just so giddy about all the absurdities we looked around and realized no one else was laughing and we must in fact be caught in a dream. But our best friends are all there so it was actually quite delightful and I drank red wine that in hobbit-money probably costs thousands.  I had a hunch the other patrons were in fact staged and it was all some big gag and a muskrat dressed in a three-piece suit would very soon appear with signs that said "Happy 40th, Josephine!" and we'll all say "no, no, you've got the wrong girls." But no one jumped out from the kitchen so we sat eating carrots cooked in maple syrup, but not the real kind, just Aunt Jemima's from Wal-mart, and we toasted our future travels to Ireland where we could start a gang because we were all a good six-inches taller than all these other red-headed hotbloods and we could take this place down.
So we finally got the bill and although I had a groupon they said the actual cost of the meal would have run us about $469 so the suggested tip was around a hundred bucks and we're like "but we live in the real world, thankyouverymuch" so we paid for our wine and we took our iphone pictures and we ran out of the hobbit house as fast as our legs would carry us.
I haven't laughed so long and so hard in months and when I think of that green bathtub and my friend having a brain spasm and that waitress in the prairie dress and the hobbit house as we sat around a table covered in lace I am exceedingly glad we went, because it was all just so brilliant and colorful and strange. And it's times like this that memories are seared and if we were all just sitting around eating a blooming onion at Outback on a Tuesday night we'd have no great stories to tell.
Because life, my dear friends, is a huge book that can't close because it's so jammed with stories. I'm so blessed and delighted to live inside of it, with friends who laugh and a heart that's open and a life that sings, so when we run out of little houses after sitting around tables covered in lace we can say we had a life well lived, and friends that are well worn, forged in the tunnels of green cherubs staring into nothing.
It's just luck of the Irish, I suppose.
—
photo:
http://www.flickr.com/photos/oddwick/1818264035/sizes/m/in/photolist-3LF5xV-dBG5Wu-K1VqU-baB7S6-Kip22-4N9Hrk-6wUSCK-583X-583w-58bV-58dm-586v-4sBzEG-dKYm1U-58dn-586X-585h-6iP4Bz-4sHfUN-7RuKdq-6xEgpv-6wAzZf-9Jqer-61ApCX-61Aj7V-61Ajpt-61AkM8-61Ey19-61EyKL-61EA4w-61Ewyb-61EvXA-61EtzQ-61AmwH-61AiMi-61Ex8j-61AomP-61Euoy-4GTSg2-61Axbi-61Eyu7-61AixX-61Akdp-dCS33M-4GTRPc-PVEp3-axnmiZ-e2PfPq-be7FQz-bV62oZ-9fgs5Q/