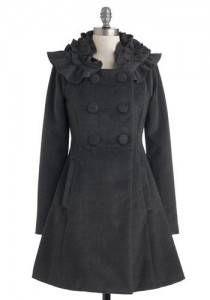 Some nights I curl into a ball tight under mountains of down with the anxiety of good, because I've grown so familiar with the weary.  Like an old peacoat I wore so many years that I reach for it's tattered sleeves when they are long since gone. A prisoner who wishes he was back in the solidarity of grey.  It'll be different this time around, I swear. And yet dinner will again grow cold.
So I take this fabric and rip it.  I sew round buttons upon it, and a ruffled lapel, and buy tall black heels with a hint of red underneath, because there is no price more worthy than to rise above the grey of ashes.
And in this coat I travel miles and heartaches to reach him. He is supposed to ride into this town upon a donkey, this man who changed things and built things and sees things, and yet I have no more living to do.  So I flap the wool before me like a parachute as I let it float softly down.  Down to a puddle on the ground, mixed with sand and leaves.  Sticks and ants.  It's all just dirt and death to me. And below lay an old refashioned pile of rags, rain soaking in its fibers like the earth and the rain and the stones and the coat were all working in stride with one another.
I suppose we were all preparing for a great love that marks you.  For a kiss that surprises you.  For a fire that refines you.  And I curl up in that familiar tight as he draws near, wanting to scrape the earth feverishly with my fingernails to let me in like a brother.  Oh please, hide me from this crushing sense of gratitude that I have not earned, and a grace I have not paid for, and a fear that I will not be enough for the lives I'm responsible for.  So much of my life has been altered, and my vision limited, and so many years pushed and crammed into this very old soul.
It is the same image I had years ago at a conference when the speaker asked where we might have fit in the loaves and fishes story. I was hands and face down, just swaying in the dust, eyes clinched shut.  I couldn't get low enough.
And yet as tears fell into the puddle beneath me I am caught with the flash of a golden sun ricocheting from the dirty water, and I look up to see an animal's hooves treading and stopping, and for a moment my weary eyes rise to see what peace looks like passing.  All I have is this one useless thing, and it's all spread out and soaked up, but I don't say those words because they've already been spoken.
My back, the one that was curved from all the hiding, straightens.  And the grey, it starts to shine like silver. I had no idea I was so broken because now I'm standing tall and I didn't realize how short I had grown from the stooping.  The black hole of my eye is gone as I reached forward and I felt a brilliant light pass through me. He clicked the back of the donkey as it moved on, down the way, down the road, down around the branches and off beneath the setting sun.
I leave the jacket.  It's warm out. I feel the earth between my toes and narcissus around my nose and my heart is a white-hot coal that radiates.  I step over the fabric as the dust settles – down the way, down the road, down around the honeysuckle branches and off toward the summer nights to come.
photo:
http://www.modcloth.com/shop/coats/midnight-in-michigan-coat