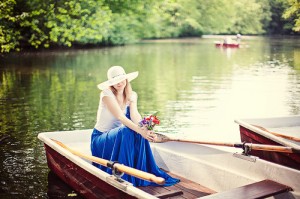 Online dating is strange.  It's a sign of how desperate us human beings have become to go around with our photos and profiles and witty one-liners like a pre-historic mating call morphed onto a website.  It should be so simple.  I think you're cute / you think I'm cute.  We think mostly the same about things, have similar values, you do / don't want kids just like me and we don't clash on religion and politics, so WHAMMO.  Let's meet for coffee. Or on a boat where you bring me flowers.  Or you drive for hours to take me to dinner because honestly our lives are just plot notes for my future novels and I need them to be dramatic.
And yet.
(1) I'm not sure who might think descriptors like "tummyrubbin" or "hero4you" are real hit attractions for the female sort. I could be wrong – those people might really be scoring.  I'm particular. But I consider online dating like a video game whereby I push the delete button as fast as possible when these type people email me believing they might destroy my secret magic castle.
(2) I get it that you have a cat.  Cats are nice.  They keep themselves clean and don't require much maintenance.  But let me say this once: don't take the limited space that people need to actually see what you look like so they know they aren't going on a date with a four-foot tall Pegasus and post a picture of your feline.  I can't believe I had to say that out loud
(3) If you're a widower don't say things like "well I'm finally out of my dark bottomless hole of grief after my wife died and my life totally bottomed out.  But I do like to walk around town lake and maybe someday I'll love again if I can only find a shirt that's not stained with my tears.  Wanna grab a beer?"  Buzz-kill.
(4) There appear to be a ton of really fit people in Austin who work out constantly and find time to concurrently run races and skip-to-my-lou to the whole foods whilst drinking wheatgrass shots and practicing hot yoga on the plane to Europe.  Seriously, folks. Slow it down.  We know you're really just sitting around your oak table eating leftover enchiladas most of the time.  Playing with your cat, probably.
(5) A note about profile pictures – let's not be lying down in a seductive posture.  Thinking about posting something shirtless on a boat holding up a fish? A bathroom selfie with your underwear showing?  Donning a Halloween costume or wearing a mask? In a dark crowded bar where the picture's all blurry like you woke up in 1990 and only had a disposable camera? All of these are delete-button favorites.
(6) Please, men: don't chop a photo down to where you cut out the woman next to you so some gal's long red nails are clasped around your neck like an eagle's talons. You're not really trying all that hard here, dude.  How lame will our date be?
(7) If you don't actually have a handlebar mustache on a day-to-day basis but just-did-it-that-one-time for a costume ball to be funny I'm not quite sure you'd really want to lead with that
(8) Don't say you're 39 when I can so tell from your photos you're 52.  And the concert where you're clearly standing is the ACDC world tour.
(9) There's nothing wrong with tattoos, but you should inform women of this in advance if there's something of concern that's permanently attached to your skin.  If there's a large winged Archangel on your back with blood on it's teeth that's not a discovery some girl wants to find out after a tipsy night at Pete's Piano Bar.
(10) And to the dating websites themselves: please don't tell me a guy is compatible with me because he likes to dine out! He has a dog! He has a degree, just like you! This information is MEANINGLESS.  What I'd rather be told is he's going to love listening to your poetry! He's from a rich pedigree of brilliance and wealth! He loves to be sarcastic and buy women orchids! This, dear websites of love and bliss and all things matchy matchy, is what really matters.
Given the above, I naturally decided to get off the strange online world and start meeting people the old fashioned way. Like at a bookstore or Starbucks or church. Perhaps I'll run into a dude in slow motion in a park where we are walking our dogs and our leases get all tangled. That happens, right?
So last week I was in standing in line at Chipotle for lunch, after a break-up no less, so in my weepy state I look up to see a very handsome guy.  Ironically, the same handsome guy who was super tall who was there the day before that I so happened to notice.  What were the odds? This is so fate talking, you guys. I owed it to the universe to talk to him.  To make sure he saw me.  Because – naturally – if we looked at each other there would be birds circling and cherubs shooting arrows and we'd tell our grandchildren we met over burritos and he'd mutter how amazing I am in multiple languages.
So OF COURSE I decide to tap him on the shoulder and asked if he comes there often – yesterday, maybe? – or some other horrible line that I didn't practice and no one should ever say to another human being ever. He looked at me as if I were an employee who had asked if he could move a few feet over for the sake of a mop and a disastrous sour cream spill and said "Why yes I was here yesterday at 11:20, stalker lady with frumpy shoes.  I come here often whilst texting my girlfriend Ashley who also happens to model underwear for the Gap because my own office is teeming with women who won't leave me alone and this is my one safe haven." Or at least that's what his eyes seemed to say. Then he turned around and ignored me for the remainder of the line while I tried to fade directly into the concrete floor below and took my lunch to go, never to be seen in that restaurant again in my life. In fact I think I'll stop eating black beans and chicken too just to be safe. This helped tremendously with said break-up, which meant I hid in my office and cried for an hour.
So there goes romance, both online and in real life.  I think from now on it's just me, my books, and my two precious children, who think we all make a great team regardless of our shoes, and we can all just laugh ourselves silly until the end of time. And then, I pray, when I'm least expecting it, my prince will come around and hit me like a brick in the head with love.  And after the concussion heals we will welcome him into our crazy little fold. Come on, prince.  You know we're worth it.
—
photo:
https://www.flickr.com/photos/ulinea/7797389352/sizes/m/in/photolist-cT2Ecs-ifRM4f-e97BNu-hGN3st-jYLUV-eg8tPA-32tMjk-aeCjy-bswaee-bdjU8M-hMR62b-8jYmzJ-nwaob4-dQTrtQ-5MuFiL-bya6Z6-5UirYQ-igh2gW-5UwNr3-7ubdJB-4Zrs3i-7kkMQU-Bk3c3-jBfoKT-jYY5wD-bsfyca-eSA6En-7LPjnH-cMZQCy-61GMpQ-4mvv88-74hJrn-dY7XHd-5qKcuc-4HuoXc-bJDFje-4rWXxZ-97ABKN-vGVF-mvCB2T-ji1XDy-5oorJt-9pXWzY-nvtve-fje14f-4YdnpZ-5ZB89U-9wxEZ9-eZfwXj-a6w12f-9e66Yw/