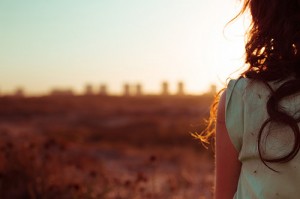 "You have heard that it was said, 'Love your neighbor and hate your enemy.' But I tell you, love your enemies and pray for those who persecute you, that you may be children of your Father in heaven. He causes his sun to rise on the evil and the good, and sends rain on the righteous and the unrighteous. If you love those who love you, what reward will you get?"
-Matthew 5:43-47
It's hard to define love.  It ranges from simple affection to intense pleasure – it indicates human attachment, can highlight spiritual virtues, serves to facilitate art and war and even the continuation of our very species.  People identify with the concept of "falling in love" because we are all mammals with a basic hunger to mate, not be eaten by predators, and garner safety in companionship and numbers.
But love can take on other forms that require more effort. Sometimes I have conversations with God on my work commute or lying in bed about this form of love, this "decision to love" even when it's hard and when it hurts and when the other person isn't the subject of one tiny ounce of desire.
Like Ross, who sues you for negligence when you're just a small-town physician trying to make it until Friday and it's not your fault the guy had untreated diabetes.  Or Justine, who is strung out on heroin and watches her son scream and cry with starvation and wallow around in a diaper full of crusty brown remains. It's Roy, who sits down in his basement with sweaty palms emailing children pretending to be Mackenzie.  And it's the person who drove home drunk and plowed over the car of your beloved wife, leaving a trail of tears and dust.  There are often no valid explanations, and no reprieves, and when your mother dies a wretched death from stomach cancer and your best friend's child is killed and bombs are strapped to back of Mohammad and people's bodies are blown across a railway station like chunks of meat, it is so very hard to love.
For in truth, we do not love these people.  They are impossible to love.  And if we are perfectly honest with ourselves, we want them all to just rot in hell.  I beg all my religious friends to at least acknowledge this basic emotion before preaching against it.  It's normal to feel outrage.  It's okay to hurt.  It does no one any good to lack authenticity about the feelings that swirl around inside of our cavernous minds.
But when the dust settles and we scream loud enough for our throats to turn raw, we turn to the teachings of the One Who Created Us. And we learn, like students.  We grow, like children.  And we have the opportunity to make a choice about how we live and feel and act. And we realize that to "love" doesn't have to be an emotion we give away to those who have earned it.  It's not just a gift for our friends and neighbors, those who we feel add value to society, or the one to whom we are betrothed.   We have a duty to love the most despicable and foul.  Because the more broken a soul the more lost they are, and what pity to live a life full of addiction and fear.  What a horrible existence with an utter and complete lack of joy.
My dear friends, who I think of and pray for.  You have been given a great gift of life and a freedom to fail and be loved irrespective of your failings.  Every step and sip of coffee and walk around the block and word you speak to the Starbucks guy is an opportunity to love.  This day is yours, and the decisions you make can change someone's life.  You get to make a choice: love or hate, apathy or empathy.
To Ross, who is hurting and confused.  To Justine, who is buried in her addiction and needs someone to lift her out of the well.  To Roy, whose mind is not his own and is lost inside a spiraling mass of voices.  To cancer and Mohammad and to that bastard who ran over the mother of your children. Yes, to them all. We can, and will, say with confidence "Come.  Sit beside me.  I release this hate in my heart to you because to love is to fully live, and to forgive is the highest form of freedom, and I will let vengeance be the Lord's and hold hope that this life is not the end."
This is to love your enemies.  To have a heart of freedom.  Then, when you rise and fall each day, you will smile. The days will be more good than bad, more bright than grey.  And love will finally "melt and be like a running brook that sings its melody to the night. To wake at dawn with a winged heart and give thanks for another day of loving." ~Khalil Gibran
—
photo:
https://www.flickr.com/photos/laracores/14448484494/sizes/m/in/photolist-o1Lg4C-6BDvbg-dAz3RP-e1Ev9e-759W1o-6w8WjN-nRsCgm-6Ke1MY-8yCDgQ-76t6sw-mN74S5-35j18V-7k9E4C-earD9x-kdHSZU-HGdT8-h152YN-kHeGE8-9qbjJz-aahDwv-6LMX4n-fk3463-87EJbL-89rNcu-64eXrU-5uBwzt-7vStdT-5iGDPh-6DCvwY-8xVGN5-4rtpxx-hkAegp-adAWsD-7BzykE-fHYCHy-8GaNxT-dU3WHD-2cDKu3-6JdGiV-cvD8-eZT6jm-7j5BWG-5yvryE-QuCHq-6FH1jX-4mrYiH-dAK6B4-dAK6Bc-6tJb9W-g2qx8-8sdBHV/