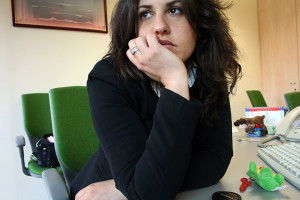 In the days of Moses, after the Israelites were freed from slavery and were following Moses into the promised land, there was quite a bit of doubt from the crowd about their overall well-being. Like, for example, what they would eat. In Egypt, they muttered, "we sat around pots of meat and ate all the food we wanted, but you have brought us out into the desert to starve this entire assembly to death." Exodus 16.
Never mind the fact that they witnessed Moses part an entire sea with a staff, or that they saw God's manifestation in the form of a moving cloud or pillar of fire, or countless other miracles in their midst. Now they are all grumbling about the good 'ole days of slavery back in Egypt before the revolution. Because at least then they had food. Also? They were slaves in a foreign land in captivity not free to worship or live their own lives as they wished and sometimes their children were murdered. But details details. . .
So God introduced manna, which was like wafers with honey, that appeared like dew and melted off with the sun, that people could eat or grind into powder and make cakes. They couldn't save it until the next day because then it would rot, and they had to just trust that God would provide from day to day. And I suppose that worked for a while.
Until they were like "GOOD GRACIOUS WE ARE TIRED OF THIS FREAKING WAFER-BREAD." Sadly, I kinda get this. Three days of leftover lasagna and I feel like I've been punished. How can I be expected to eat it any more? So "the Israelites started wailing and said, "If only we had meat to eat! We remember the fish we ate in Egypt at no cost—also the cucumbers, melons, leeks, onions and garlic. But now we have lost our appetite; we never see anything but this manna!" Now ya'll know I'm a Texas girl, and I fully understand the need for a good healthy dose of barbeque. And I am starting to feel like there's a lesson in this passage that I am not quite sure I want to hear.
God heard their grumbling, and quail descended upon them. But God was getting tired of the overall disobedience. "Now the people complained about their hardships in the hearing of the Lord, and when he heard them his anger was aroused. Then fire from the Lord burned among them and consumed some of the outskirts of the camp. When the people cried out to Moses, he prayed to the Lord and the fire died down." Numbers 11.
All I can say here is thank God for Moses, who always acted as a mediator on behalf of the people. But it's easy for us to look at the Israelites and think "why how utterly foolish of them. Could they not see God's hand providing for them? Why did they doubt after the miracles and the provisions, and why were they always grumbling?"
But just for grins and giggles, let's fast forward a few thousand years. To a home in Austin where a young woman lives with her two young children. Where, by God's provision, she has managed to secure a job, maintain a network of friends, keep a beautiful home, enjoy vibrant and funny offspring, have access to Pinterest and books and pictures and chocolate, and share the joy with healthy parents and a newfound love. This person is of course me, and yet this is what goes through my head many days:
I'm cold. I've gained a few pounds. The commute is long. Damn, my head hurts. And then I scowl, because I don't have time to write, or play with the kids as much as I'd like, or cook long home-cooked meals or bake honey-wheat bread like I used to before the divorce. And I pray selfish prayers and find myself quick-tempered and want easy fixes to what I view as problems.
And it hits me: I'm no different from the Israelites. The constant complaining despite the knowledge of God's provisions, of milk and honey on the other side of the ridge, of how God is working and planning and preparing. I often hope it's not too late for me. I throw myself down prostrate in shame at my general lack of trust, disobedience in the waiting times, and damned impatience, which is my own human failing. Maybe Moses still watches out for us foolish ones, up in the clouds. I hope so: I need it.
But I hear it all the time. The pay is not enough. The work is too hard. The kids are too loud. We are the only ones who do the laundry round here. It rattles around in my brain when I'm at work or out at night or talking with friends. We all sit around and generally complain about what we perceive as the degenerate situation of our [middle class healthy beautiful] lives.
I've had a strong feeling lately these words are drops of blood as we speak them, and with enough negative words they turn into to a trickle, and a slow bleed, and soon enough our life is pouring out from us, and we are dry. And the word manna keeps ringing in my ears like a repetitive refrain.
Provisions. Daily. Without fail.
Let us not spew warm vinegar into ears and hearts. Let us look around with gratitude and satisfaction in the abundance we've been so freely given. And when it's hard work it's just hard work, and when it hurts it still freaking hurts, and sometimes your dog still poops in the neighbor's yard. My four-year-old wanted me to say that part as I was reading this to him aloud. But let our words instead be sweet as roses to those who hear it, true and honest and real. For we are not just asked to be patient and diligent while waiting on God's promises as a sort-of-generally-nice-thing-to-do. If we are truly God's children and trust in his control over our lives, it's an expectation.
God, help us give thanks at all times, always, without fail. For the manna that falls. The love that endures. The life we walk through every day. For we are so exceedingly blessed. Deliver us from evil, even when that evil is simply ourselves, complaining.
—
photo: https://www.flickr.com/photos/sunshinecity/2497397791/in/photolist-4NFPmB-cPjoZy-e2JCWP-9eYoSq-aG2pD6-ddonJC-apuwzt-akh5fF-9drcnA-amKhQq-eKJuJg-8ZEEjX-97RJYC-9kztem-7KqfW9-4o4HU1-akh5xB-9GYcpJ-apN8JC-9G8rEb-Kxn5c-an3TWC-9b7SHj-dT7YvE-aUxMFn-9kwoFx-agCbLW-aNXFn8-aF2Hi5-8pBjrS-aBD9XJ-898xZY-dNUnM7-9wef8c-dLYVVm-bZhVQj-9WQtTr-dNwQZ8-eapqiL-e8Vghi-dUFaus-fvtyWW-dPyaHK-63Ftn6-hTiGjz-9m3jAL-dWtsXr-akh4Rp-8gKe8N-53oswC