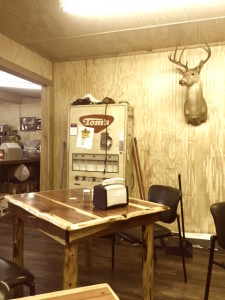 There is an unassuming little joint right off Highway 71 near Bastrop, Texas, in the middle of what used to be called the Piney Woods. The sign reads "Billy's BBQ," because the owner is Billy and that just made good damn sense.  We used to go there when we were passing through, a two-meat platter with potato salad, nothing fancy or famous but just staples of Texas that one grows used to.  Now barbeque has become such an ordeal, with restaurants like Franklins where lines last for hour simply for the pleasure of licking the charred end of a brisket. Presidents, celebrities, everyone's cousin, and friends from California all want to know what's the best, what's the greatest, and who on this great earth makes the best sausage stuffed with jalapenos and cheese.  It's all a big show these days, one restaurant claiming that "it's had the same pit fire burning for over twenty years."  For heavens sakes.
I was born and raised in a small town in Texas, where barbeque was consumed at almost all events without much thought put to it, like picking up a sandwich. You never had to worry about hipsters, wanting peached iced tea and pulled pork with cilantro.  I order the same thing every time at Billy's, the burned ends with sausage, cole slaw, salad.  It's hearty and filling, and it makes me feel like home.
The last time I stopped in I was wearing something sharp and black, coming back from a meeting in Houston, and although I ordered it to go I just didn't feel like leaving.  Billy's daughter, a heavy-set blond woman, had taken my order.  She seemed worn and tired from the monotony of things, but she offered a beleaguered smile as she handed me the Styrofoam box and bread.
I sat in the back, inhaling all that was familiar.  Billy was there with his wife, who kept meddling and interfering in things until their daughter told her momma to shush, that she had work to do.  But as mothers do, she stood up and shuffled to the cash register, her knee acting up again. Or so I assumed.
I went up to Billy and shook his hand, told him how I often came here, how it made me feel warm and comforted, like I was back in my grandfather's sand and gravel shop in Kerrville. There was a Tom's vending machine on the back wall, twenty-years past working with the cord hanging to one side, overseen by the deer heads with their proud antlers, mounted to the walls.  "Thankya," he said in all one word, the same word he used for 31 years of being in business, cooking meat and scooping up beans, walking around in starched wranglers with a pearl button flannel shirt regardless of the season.
An old black man came in, a little toddler bounding in behind him.  Billy called out his name, said what a cute granddaughter he had, and the man beamed with pride.  Later another man, wearing wranglers and a fishing shirt and a straw cowboy hat, came in and started talking without even placing an order.  Billy's wife was tired, it seemed to me, but she dished him up the usual and asked him about the bulldozer business.
There was an ease about the place, a familiarity with the smallness of it all, comfort taken that the food is always the same, the coleslaw sweet, the soda cold.  It is as if nothing ever changes here but the weather, which is the topic of much conversation.
I try to stop in every time I pass through.  I just rush in and order, eat until my belly's full.  No one really knows me there, and it's nothing to write home about.  Except that it is home, with the linoleum and antlers and salt shakers half filled. This is the Texas I know: a friendly and warm and welcoming place, where brothers shake hands and talk about land west of town for sale at a decent price.  These are people who love hard and don't change and wear wranglers not out of fashion but practicality.
I'm so damn proud of you, Billy.  All these years you've made it.  You must be nearing 90 by now, the way your skin sags and you have to catch yourself as you stand.  You remind me of Papa, the quiet way you talk, the blurring together of words, the way your gait is uneven and your hair thin. I see the dark spots on your forehead, the ones you get checked every year to make sure the sun didn't burn you with cancer.  You've likely braved the storms and heartbreak that are bound up in marriage, business, the pit fires that burn.
I'm going to keep coming back to see you when I'm heading to Houston.  I'll get the two-meat platter, the cole slaw and salad, and smile at the non-working Tom's vending machine.  I'll sit for a while and listen to the random, idle conversation.  Because this is my living room and my heart and my history.  My personal nostalgia, all wrapped up in the charred ends of a cow.