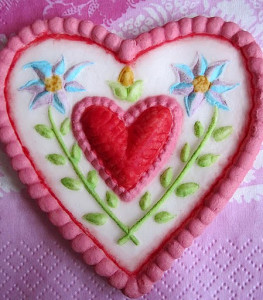 An example of a cookie that no one should strive for. Who spends 20 minutes on one freaking cookie that looks like your grandmother's quilt?
Seriously it's insane.
Stop it.
Volunteer at a homeless shelter or something. Watch a movie.  Stare aimlessly into space dreaming up new ice cream flavors. Anything.
—
Expectations.  I look at them.  I manage my life against them.  They are the bane of me.  The ruiner of things.  A destroyer of hope.  When we plan out our lives in accordance to some lofty expectations, we will not only likely be disappointed and regretful, it's almost guaranteed to be so.  We will constantly look back and think what if and why me and the dreaded "but this is not the way I had it planned."  Of course it's not the way you had it planned.  Who plans disaster and divorce and cancer and death?  Who plans to make ugly sugar cookies or burn toast?
Maybe it starts in childhood.  If you have a good one, you want to repeat it.  If you have a bad one, you want to replace it.  You have a certain map in your mind that lays out the future of your life, and when it goes off course you can either learn to correct it or just sit and cry. Many times you course correct.  You think of yourself as brave and clever and keep going new directions.  Until one day you hit your limit of turns. So you sit and cry, for no other reason except you are so damn tired.  Changing things takes a lot of work, especially with a brain like mine that sees things in predictable chapters.
I was practically born in church. The comfort of hymns and carols and preachers saying things is strangely calming to me.  It brings back memories of my mother stroking my hair in the church pew.  It brings back nights of my youth running around the halls and playing games.  And it brings back the peace of Christ when all else failed. Some people don't see this.  To them, God is the keeper of a far-away and elitist circle that has power and influence, and if you aren't inside of it, you're out of it. I suppose I am inside of this circle and can't see it, how the collective people of believers may come across to those on the outside.  But when people close to me see my faith as foreign, it's hard.
I was practically born a lawyer.  I knew from a young age I would plow forward to law school, form arguments, write things.  When I was in college people sometimes asked if I thought of music as a career and I'd say "oh no, not me.  I'm going to be a litigator and go to trial and #winthings and #beatpeople and #stealtheshow."  Although I didn't say it that way.  But power and winning is intoxicating.  Today, I'm a transactional lawyer and my goal now is not to win but to simply solve my client's problems.  I've learned after all these years that stealing the show is simply living in the background sometimes, doing the right thing, consistently. A win for the client can be at your expense if necessary, and compromise really is the way life works.  If I could only see how the real world worked back then in law school, the way honor and ethics and being true to your word is the only win that matters.
And I was born a control freak.  As a child, I'd tell my sister what to do.  I'd tell my mother how I thought things should go. I actually told my piano teacher enough already with Beethoven and perhaps we could work on composition rather than just playing things other people composed.  That was the day my mother quit spending her hard-earned teacher salary on piano lessons. But the fact is, I do know the way to line a sugar cookie and flood the icing.  I do know how to write a brief to make it compelling and persuasive. I do know how to make a wonderful crock of split pea soup with ham.  And I know what is best for all the children of the world that belong to all people all of the time.  Or I don't.  After living these years, I can say with certainty that my way isn't the only valid way.  I can see how my controlling tendencies can be misunderstood and misinterpreted, and just flat-out wrong sometimes.  And for someone into #winning and #nailingit and #lawyering and #prettysugarcookies, it is hard to be wrong and to be flexible and to admit that I don't have all the answers.  It's not just hard, it's exhausting.
So today I look at expectations and say to them, "I give in."  I cannot keep up with you.  I don't have the perfect situation and the perfect life and the perfect body and the perfect image of what I expected.  Because expectations mean that we feel we are in charge.  We are not.  We are one hundred percent without a shred of doubt not in charge of what happens around us in this crazy life. Thank heavens.  We'd probably screw it up even worse.
I have a very good life with so many wonderful things.  And so do you.  What I have learned is that out of the most barren fields, sprouts can grow. Out of the most unexpected of places, a child was born to save the world.  Out of the most confusing of pathways, Jesus came.  Out of a family that is different than I expected, a career that looks different now than it did back then, a life more adjustable than I ever imagined, and more life twists than a pretzel, here I am. Standing up.  Moving forward.  Living.
Sometimes you just have to let it all go, the image of things, and look at what's in front of you.  Maybe it's a huge turd or a diagnosis or crying that never seems to end.  Step over the turd.  Acknowledge that you have this sickness and get the best help you can.  Let go of the anger.  Tell people you are trying out for a new play and you are trying to get the crying scene down. You are #noquitter.  Embrace the turns, because it's the only life you get.  If you don't keep moving with the pathways, you run face-first into a tree.  And then, no one will be eating your beautiful sugar cookies because you'll have oak-print on your face spitting acorns out of your mouth and can't make it to the kitchen.
So cry until you're done and then stop it already.  Get up, wipe your face, and stick a smile on it.  After all, ugly cookies are still cookies. They are from the heart.  Your kids gleefully dump sprinkles on them.  Nobody I know hates cookies.  Whether it's grief or Lyme's or cancer or divorce, you can do this.  One step, one left turn, one day at a time. Let go of your bullshit expectations.  To me, that's really the definition of #nailingit. One cookie, one foot, one turn at a time.
—
photo:
(three w's).flickr.com/photos/oldworldcookies/5485884188/in/photolist-9mLAf9-qdkyuu-XAP5qr-and7zN-isAK7Y-C6U6hE-8urFji-iosL9K-6dgoJj-8ykqC3-7tW4BA-ZabPij-6uCeXv-ZbmT62-h9uiv3-ecTZZJ-im6LPt-91wDUU-pWAko2-ph3vsC-91ty6i-91wC5d-91txqD-LJsk9-91tvxD-91wGHU-dQohcc-7eaH44-q552a9-7kjUcY-UHn7qz-6vFCv2-9hwXaX-91vikv-bo6Mvt-aTqWbK-91yADw-91vrgk-91vhwi-91vsrp-8sXLz8-dJp23u-91vktt-7ZqK2-91yzwJ-dTYLiQ-ziGgz-91vqZx-91vrtX-5RQ7vg