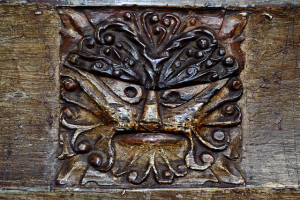 The carving of an angry god, carved into a desk. Who wants to look at this? His eyes are all wonky
Free Desk
This desk belonged to my asshole first husband before he humped his secretary on it without my knowledge. If it's not picked up in three days I'm going to light it on fire on the front lawn. We'll roast marshmallows. But it is a lovely mahogany and was hand carved in India. It would be a shame to burn it but I can't stand the memories.  Every time I sit down to pay bills I think "Mandy was sitting on this thing naked" which is why I haven't paid the electric bill in months.
ISO Dresser for Girls Room
I am searching for the perfect dresser for my daughter's room in a shade of rose gold. I am going for a "independent and yet beautiful princess in France" look, so please don't show me photos of some hand-me-down garbage that you slapped a coat of paint on.  I can tell if something has been hand painted or if it's been professionally done.  No barfy Pepto-bismol pink. My daughter speaks French and I don't want to be cursed out by a seven-year old.  I want the hand pulls to be made of crushed glass, silver, or precious gems.  Thanks, neighbors!
Kids Shoes $20
These are old, smelly, have a hole in the side, and were worn every Saturday at soccer games.  Not sure why you'd want these pieces of crap but they are yours for a great price. Pick-up on my front porch because they make my house smell like nasty feet. 
Futon $50
My 30-year-old son finally moved out! Praise the Lord. Please buy this so he doesn't come back.
Dining Table $500
This is an heirloom piece handed down from my great grandmother. Sure, it came from a regular department store, and okay it has a small gash on one leg, but this should not deter you from buying a table rich with memories.  So many casseroles have been served on this table.  So many arguments at holiday dinners!  My grandmother voted for Carter in a sea of Ronald Reagan supporters! It's not really wood but particle board, and it folds up easily since two leg has been replaced with PVP pipes, but you can just throw a tablecloth on it and no one will ever know.
Classic Tulle Bed Canopy $50
This is a very beautiful canopy that drapes over a child's bed and makes them feel safe, secure, and creates a barrier from mosquitoes.  I realize we live in the suburbs where malaria isn't a big thing but your precious little one can pretend they are on an African adventure.  Not great for kids with claustrophobia or if they don't like waking up shrouded in fabric that they may get all tangled up in.  There is a vomit stain but it's machine washable.  We discovered our daughter does in fact have claustrophobia. Wasn't there some neighbor looking for French-themed decor?
Duvet Cover for Twin Bed $75
This is a great Pottery Barn cover with footballs on it used in my son's room.  He's now seventeen and has decided he's gay and into theatre and is "sick to death of having sports pushed down his throat by the misogynistic masses and is going to move to New York." Also available is a matching football mural, plastic football plates, a recommendation for a therapist for my husband (who is a high school football coach), and advice on boarding schools in the New York City area.
ISO New Desk
I am looking for a new desk.  I had one that was hand-carved from India but lost it in a divorce.  Little does my ex know that it's worth ten thousand dollars and taped inside the top drawer is an envelope of cash. You think I'm going to tell her? By the way, what was that smoke I saw this morning coming to work?  It looks like it's in the area of my old house. Did someone have a bonfire?  Also, why is there some young man waving his hands wildly running down the street yelling about football?
—
Photo:
(three w's).flickr.com/photos/andrewtimmis/10380457723/in/photolist-gPhyr2-oNSUjZ-21f3Vrc-21f3B4a-21f3LUx-bG67U4-8QN496-ijAyWp-8QMVtV-8QR5dE-24LuQPX-8QMGZa-HDf6EP-7cBXeT-4xmaEq-nTPLyN-eGNjYm-nuj74y-dut7wy-ebEb4E-oA6kxN-ooG31B-8QMUG6-6kt1kZ-gS2PHt-bG5Zmr-8QRcHN-8QQJ8C-pZcL7W-8QMWa2-VeEyG9-8QRbHS-8QQEyL-5V5Gbo-eeFE9P-pKMFe7-8QMXot-8QQTuC-22xccz5-bG5Zmz-7BRB8H-pWZgKw-7BVrsY-21f3XaT-p515C4-nZwdtN-9H7WQs-nx5gYw-kH27JX-8QQP1m