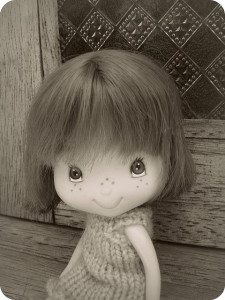 Kids today are spoiled.  They are lacking good solid stories as they get older about how they had to walk home from school while vomiting or had to share one large yellow phone on the wall in the kitchen. They have it a lot better than we did when we were young, our own childhoods akin to a long and tortious drive through Nebraska.  I know this, because I've driven through Nebraska. The cornfields, I tell ya.
Once when I was little, I defied my father and hid strawberry shortcake dolls inside my travel bag on a long-distance trip to Kansas. Yes, they did smell like fruity chemicals. But so does lotion named "sun ripened raspberry" and you don't see anyone complaining.  My favorite was the evil Purple pie man, who stole all of the berries from the innocent girls with a mischievous grin. Needless to say I loved these little dolls, which is why I thought I needed them on the 13 hour drive to nowhere (aka Kansas).
But you don't know my father. He hated smells.  He could tell if we painted our nails two days prior.  He aired out the house at the whiff of burned toast.  One sniff of cute little Apple Dumplin' and he was like the Jack and the Beanstalk giant, fo-fumming that he smelled the blood of something that did not actually smell like apples.
"HAND IT TO ME," he bellowed.  You can imagine the horror on my face, my father's looming hand reaching into the back seat of the station wagon.  Scared, timid, and feeling small, I handed him one with flaming orange hair.
To my shock, he hand-cranked down the glass, which could only mean one thing.  He wasn't placing a to-go order.  He wasn't spitting.  He was about to throw, with all his might, my dolls out the window, somewhere outside of Oklahoma.  There were no apologies.  There was no "daddy lost his temper, sweetheart" moment.  Nothing akin to "we'll buy you a new one" or "let's talk about how this makes you feel." It was swift, painful, and effective. All the dolls. Flump, flump, flump. In a moment, they were gone. My mother sat still and stoic, like this is just what fathers do when daughters bring along dolls that are fragranced with perfumed asbestos.
So maybe I'm overly concerned about how my children are feeling, and whether their emotions are seen as valid and real.  I worry that I'm not providing enough creative opportunity. Scared that they aren't talking about their feelings. They are watching television instead of making birdhouses from scrap wood and metal screws.
For heaven's sakes.
When we were kids, we'd get up as early as we could, watch as many shows as we could cram into a five-hour period, and take turns making each other breakfast.  One time my sister just walked in with plates covered in icing and we'd sit shooting sprinkles from the plastic container directly into our mouths.
So when my daughter threw a fit and I took away her allowance, I stopped for a moment and thought.  This is my right as a parent to invoke this discipline.  To enact order.  To make sure she understands that rules are rules.  And when she continued to defy me, I took a toy that she got last year for Christmas and put it in the Goodwill pile. There were no second chances.  I laid down the parameters.  She went past them.
Judging by her screaming, I was the worst mother ever. And that guilt started to creep in – was this too much? But I remembered my childhood, and how completely unaffected or scarred I am from the memories. So I braced myself for her outrage.  I allowed her to get angry. But in the end the toy was gone, and so was the discussion.  The next day was a new day, fresh and clean and happy.
As twangy as this sounds, being that I'm from Texas and all, we need to calm the hell down and firm up our resolve.  Let's be parents, and be bold, and say that lines that are crossed have real and meaningful consequences. After all, they do in real life, where there are no time-outs or apologies.  There are only cops with little pads writing tickets and accidents that can end in death and despair.
Sometimes I think back about that little doll with orange hair, somewhere on the roadside, smashed by a truck or pecked at by birds, dead now by contaminated plastic, smelling of something other than apples.  And it makes me smile.  My father and his aversion to smells.  The large red station wagon with hand-cranked windows. And the look of my mother.
This is life, kiddo, she said with her eyes.  Get over it.
—
photo:
(three w's).flickr.com/photos/minhablythe/5158719569/in/photolist-8RRMAR-4fC1mQ-9boJmy-97x4x9-9s6PCK-bH3TSK-bu93H9-8TCvu9-o8xPXN-bu967E-7RXD6R-bH3RJ8-9KWeBn-z6b3Q-bH3U4X-bH3TXX-bH3TVt-8NFexD-8NV9L6-bzwVYQ-c8bP7E-81w25J-8AHVmS-bH3UeZ-bH3UEk-bu94d3-adu3zU-8VjvCv-bH3Uak-bu93P3-bu95FU-ieDzjy-8QeMr3-bu9387-9uwagb-bu93Z7-bu92LW-bu943A-cx9eJb-cK34U9-5gacU9-bu95tJ-8K4wqW-bssM4y-6xsqHJ-4DW1jj-z67zA-8QbPgR-bH3QHi-9a9JCE