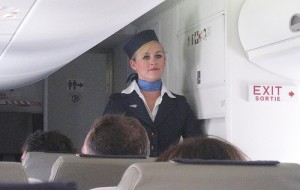 I flew to a conference last weekend, from Texas to Ohio with a detour through Florida, because honestly that's close. It's pretty exciting being crammed into a plane with recycled air with a bunch of children sporting Mickey ears shrieking about Disney and beleaguered parents praying their sugar high will last until the rental car. But even more fun is when you hear the same speech you have heard for your entire life from every perky flight attendant since the dawn of time and spacecraft.
The Captain has turned on the Fasten Seat Belt sign!  I love this opener, because instead of just saying "put on your dang seatbelt because we'll be taking human beings into the thin air in a large mechanical bird and if we crash your ashes will be spread out like dust over Birmingham," they tell you the sign is on.  Like that ever works when you see the yellow light in a school zone.
Please make sure your seatback and folding trays are in upright locked position! I'm wondering if it would cut a human in half if the folding tray was down.  I'm also curious if some guy named Bob just made up this line twenty-seven years ago because they were trying to fill up space, like "make sure your shoestrings are tied!" and "take off your hats, ladies!" because the seats only move a total of 1.7 inches even when you force them with all your might by digging your heels into the cold floor and what's the freaking point of the seats moving 1.7 inches.  And I'm imagining the gasping of a woman decapitated upon take-off, and her sobbing husband wishing he had only remembered to keep the folding tray in an upright locked position. 
If you are seated next to an emergency exit, please read carefully the special instructions located in the seatback in front of you!  I take this seriously, ya'll. I glare at these exit row passengers with beady eyes to see if they're paying attention to this immense duty that has been bestowed upon them, because if they can't handle the exit row responsibilities I'm totally there to lead this ragtag crew in to safety. I'm ordering scared children toward open doors and blowing up life rafts saying things like "atta boy" and "you betcha" and high-fiving the flight attendants.  Also? I know there are a ton of exits, somewhere up front and blah blah down at the end that can only be recalled with some fancy two-finger arm movements that I can recall in a pinch if the plane is plunging to our deaths. I'm onto you, old lady who moves slow and is taking up precious exit row space.  Get with the program and read the handout in the seatback pocket in front of you.
At this time, we request that all mobile phones, pagers, and other electronic devices be turned off for the full duration of the flight! They LIE I tell you, because something as sophisticated as a plane that lifts us into space surely isn't derailed by my itouch reader and an electronic Jane Eyre.  But then again apparently the seatback thing is a deal and people have to follow signs to remember to wear safety belts and you wait with crazy anticipation for a cup of soda the size of a sippy cup so perhaps we aren't all that bright after all and the machine really has to dig deep to fly straight.  And Southwest took me through Orlando on the way to Ohio which means someone's turning on their freaking cell phone.  Stop it, people.  Have mercy. This thing needs to fly in a straight line.
And lastly, it's always nice to be reminded that it's a non-smoking flight, in case you woke up from your nap and thought it was 1952. And in case you wanted to run off and light up in the lavatory, because we all still totally use that word, or tamper with, disable, and possibly destroy the smoke detectors, it's a no-go, folks.  I totally caught some woman eying one, thoughts racing inside her head like she needed to tamper with it, or perhaps destroy it, but then the soda came and like Pavlov's dog she was giggling and I realized she was staring at an exit row sign while playing Candy Crush.
The moral of the flight safety speech is that we are all morons, have to be told things of no significance, need to yield the exit row to my mad skills, may cut our bodies into two if we aren't careful with the tray locking feature, have to resist urgings to destroy things, can't smoke, need signs, and get super excited about small cups of Dr. Pepper. I'm confident about our future generation.  If we're lucky, they will learn to actually turn off their cell phones.
Have a good flight!  If you forget something, there's a sign. And a speech that won't change for another two hundred years.
—
photo:
https://www.flickr.com/photos/thomaspurves/2843427903/sizes/m/in/photolist-5kgj42-joqPeG-aRLCwa-6RxU3r-fqFhYx-54NVem-54NVfC-7nWXGn-kYTWc-fKuUDN-e39vBn-e39vG6-e39ub2-e3fbT3-e3fa8m-e39udc-e39vmz-8GQXYB-e3faqL-e3fcms-e3fczj-e39uMX-e39uDt-e39w4X-e3fctQ-e39u94-e3fcGQ-e39uqx-e3f9SS-e3faid-e3fbxs-e39vtr-e3fcju-e39vDk-e39u5H-e39u2M-e39ufx-e39v2K-e39uiH-e3fbZN-e3fa39-e3fa5u-9ixUfK-5VMNeQ-4uuDPQ-8w24ba-8w246D-5p7wiu-7FKdyC-8w564u-9ThobV/