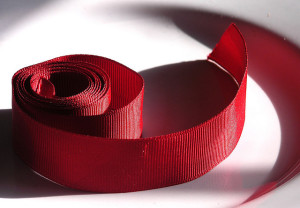 Sometimes writing is delivered to me in small packages, when the kids are watching cartoons and I'm drinking a beer because it's Friday and I have exactly 47 minutes to myself. But I have this idea, see? It is a spark that needs to be lit, an itch to be vigorously scratched, so I run upstairs to my crowded desk, with loads of contracts and various mugs filled with stale old coffee, and furiously write. And when I open that box I feel full, because it's a gift to have this desire.
It is okay, that writing happens in this way, little boxes tied up with red grosgrain ribbons. It is okay that my career has twisted more than rivers, bound up at times, flowing at others. And it is okay that sometimes I feel like moving my feet forward and other times I feel like curling up and hiding like a possum in the light.
There are so many areas to fail. I don't write everyday, as I should. I don't wash clothes every week. I don't write thank you notes like my mother taught me, and I sometimes yell at my children. I don't have a book deal. I don't floss. I don't work eight hours a day. I basically don't know what the hell I'm doing most of the time.
But we must whisper to ourselves like a mantra: It is okay. Life is still worth it. Beautiful things will come.
Because there are packages that appear, in your bedroom and between your nose. In your mind and amidst the Starbucks napkins in the front seat of your car. Look around! They are in abundance around you. Even when you are tired, or worn down, or broken up with guilt. They arrive, through the miles and skies and years and headaches. There are always little packages.
The way a woman smiles at you. The way your child makes you laugh. The urge to bake chocolate brownies. The ability to say the right thing. Today, somewhere, a gift is laid out before you, and you get to unwrap it. It is a delight that God surprises us in such unique ways.
I like to keep my heart open. This is at times a curse, since I am easily bruised. But I am not calloused, and my wounds always turn to scars that fade. And although I remain soft, I grow in wisdom, and I can see the magnitude of such gifts.
Life is not sometimes hard, it's always hard. Let's not parse words about that. It is so stupid hard. You feel like you're on the wrong track. Everyone around you seems to have it all together and you're sitting on the couch with a sinus infection. But it's a funny thing, because soon enough there will be a gift. The way your daughter dances in front of the mirror. A text message that makes you laugh. A short line at the grocery store. It explodes into piles and piles of gifts, and soon enough it's Christmas morning and you are surrounded with ribbons. The good grosgrain kind and not the curly ones that twist and break around the scissors.
Collect all these gifts in your heart. Be grateful for the beauty of these small things. This is life. It's not always an epic, sweeping film, but a collection of very small, good things. It's okay that life is hard. That you aren't perfect. That sometimes bad things happen. You might be a hot mess. Because soon enough, gifts will come. Delight in them, unwrap them, and be grateful for these provisions.
Today, I ran upstairs to write, whereas tomorrow I might feel bone dry. And that is okay, because tomorrow there might be pumpkin bread or a letter or the way I notice my coffee, hot and perfect, going down.  Funny that I did not notice that yesterday. Because it is a gift for another day.
Save the multitude of ribbons that you gather. Hold them to your face and remember how beautiful they are, tied up in bows, holding together all that love.
—
photo:
(three w's).flickr.com/photos/calliope/104660728/in/photolist-afpZj-j75bj-bUjJeE-5vZfs5-a62AJ8-5pRVX1-aAVy2m-7YgDrr-kmWQCp-fDbe7L-8WW46-4cZMz4-mZP848-dbqjHZ-8w4qni-5pMD1r-6UjuSW-5vUSp4-9irqiH-e1DA92-mZPdAZ-aoPZDd-kmYjg9-ixBGx6-8Zyz8Q-ciBTjh-79KzXR-qP5JH4-87GxRw-nZpN86-o9SkPp-aNneu8-aepUCe-6mzSRh-byQKdm-5vZ8z9-aQWyzT-gVodpy-nxKjb7-hhNvdM-aepV4P-aoQ1SU-ayxG1e-8Y7sfe-diB2br-Dz3pS-eonSNG-86QKs-kmYhHE-bC7aAv