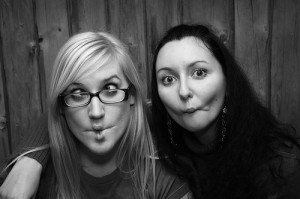 I love girlfriends.  Without them I'd scowl more, spend more money on therapy, laugh only at Arrested Development, and likely have a drinking problem.  My besties are all beautiful and funny and selfless and they all strangely pick up the phone when I call. But let's be honest.  Even amongst friends there are half-truths.  Nice ways of saying things.  Lying.  For example:
(1) I so don't care what your house looks like.  Now this is a bald-faced lie, because they do care.  They care because the more piles of dirty laundry, crumpled up receipts, and dirty frying pans the better it makes them feel about their own lives.  To which I say: you're welcome.  At a minimum I owe them this, so I purposefully leave hairbrushes on the kitchen table as a token of my undying admiration.
(2) You're not crazy.  Because honey, sometimes you are.  When you and a boy break up and yet you end up texting him multiple times in one night like "heeeeey" and "wanna meet up later?" and his response is that he's watching a baseball game – no thanks –  but you push onward not to be deterred until said boy says "you need to get over it" and you sob for hours and text him one teensy little text that may or may not be 500 characters wishing him a healthy future because he's so kind and wonderful? That's a tiny bit crazy, I'm not gonna lie.
(3) You look amazing. Not true.  You are wearing yoga pants and you haven't washed your hair since last Spring when your daughter was studying fractions and at this point you just don't care about the external appearance of your body in public places which is why your friends lie to you and say you look amazing. You've gained five pounds and you need highlights.  Let's think rationally.
(4) Let's grab dinner next week.  What this really means is that I care about you more than simply offering lunch, because it's not that fun dumping the kids and going to Subway, and you're worth more than ham sandwiches, and yet it's too much trouble to wait until the hubs gets home and change clothes and meet you someplace and pay thirty bucks for margaritas and then drive home to kids up past bedtime unbathed while the husband said "I thought you were going to be home at 10" and so they say this as a term of endearment which translates to "text me tomorrow, girlfriend."  It's okay.  Just agree and move onward.
(5) You are so funny! This is a common lie to cover up the underlying meaning, which is "your life is such a train wreck that it makes me cackle on the inside that I am, in fact, not you."  It's not that you're funny, it's just that your life is a combination of awkward and unfortunate events that makes other people uncomfortable when you talk about them out loud so they translate that to some form of humor.  But I take it as a compliment and invite them to grab dinner.
(6)  Call anytime.  This is a crowd favorite, because when your friends are trying to sit at a swim meet or navigate their way through Costco the last thing they want is for you to call and start telling them about your crazy complicated work situations or why your ex-husband is the way he is.  Their response is usually full of mumbles and agreeable verbals nods followed by "I gotta run" and you're left feeling like you dumped a load on the side of the road.  But they answer the phone the next day to make you feel better, tell you you're funny, and remind you that life will get better because you look amazing.  How do they know. They're on the phone. 
(7) I am praying for you.  This one is sweet, and I always say thank you, but in reality this means your friend throws three kids in a bath, reads The Tawny Scrawny Lion (again), hangs out with her hubs, watches two television shows, falls asleep without brushing her teeth, wakes up in a daze at 11:30, stumbles towards her bedroom, and on the way toward her toothbrush she thinks "Lord, help that poor girl because she can't seem to catch a break" before falling into her mattress.  But it counts.  Cut them some slack.  They pick up the phone for you at Costco for goodness sakes.
Then every once in a while, one of your really good friends will say "Snap out of it. You're worth more than this (guy/job/heartache/stress) and you need to head to the gym and I don't want to hear any more of your bellyaching and a woman shows stress through her stomach but what the frack ever and you need to be grateful for your life or I'm gonna drive over and slap you and you are really deeply loved by so many" and the universe is righted on it axis because truth reins supreme.  So you invite her to dinner next week, say thanks for all those heartfelt prayers, and drive to her house to drop off a bottle of wine and a card.  And if she's home, even better, so you can sit at her bar and laugh like silly children. Because honestly, you really don't care what her house looks like.
Liar.     
—
photo:
https://www.flickr.com/photos/mpeterke/2062879689/sizes/m/in/photolist-49hNgc-bNdUhk-imwzDx-a7AYP2-hghyaz-75JYPh-Cg9Y1-7niFB3-4mg9WM-gKz5wA-8jJhpp-a6kjAf-2Eyxp9-bukbrC-arjX9t-8hqeLT-9DHqZr-gxBpPw-4fpbsV-aF2Jd6-bpHwiF-d5gWfj-9nduRf-ed1cm8-uXKET-afMnhx-8dcJsP-8gxu6s-8gmL75-8gxuk1-dbfPg9-jgRTWE-3zUH7T-dxgARz-8gnbhL-bv3qDi-bv3sdv-9h7S6N-8giX8t-6UxxZu-8eyYmT-bv3uJi-bCEcwr-9h4LgP-fnaRw-5DtBkS-69RYpT-8teeZ-btvRxm-7EKsGC-9XGyZd/