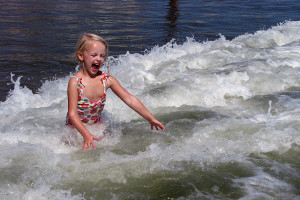 I was driving today. Onward toward a job I'm close to ending.  Sighing about the traffic, rubbing my temples, and letting my eyes blur the brake lights. I was thinking how life can be monotonous one moment and then gone the next, like the woman in Virginia with fresh blond roots and a future. As I inched forward on the highway I wondered how I could better cherish these days.
The car in front of me had a bumper sticker that read "WHY CAN'T YOU USE YOUR TURN SIGNAL." And I thought how insanely helpful this was to point out.  Perhaps we needed more such chastising signs in various places to help us as a society. Grocery stores could post signs that read "Why can't you eat more (bleeping) spinach" and the hotels could say "Why can't you use the towel more than one time" and bars could say "Why can't you see that this guy you're about to go home with has an overbite, an abundance of back hair, and smells like three-day-old cigs? IT IS A BAD DECISION: CHOOSE NETFLIX INSTEAD." I feel like we should all be open to such wisdom. Then I passed him without using my turn signal.
I was creating today. Covering a folder with duct-tape flowers and watching my daughter write a heart-shaped note with butterfly words that fluttered atop the page. It feels good after a long day to let your brain make flowers and draft words that sing and have arrows pointing toward polka-dots. Because our lives are created in His image. They are so intricate and elegant.
This morning, some sort of bug the size of a hummingbird flew right at me like a bug demon. It buzzed and screeched like it wanted to nest in my nose hairs. I screamed and jumped, dropping toast jelly-down on the front porch. And I batted at the air for a good five minutes, like "Come back you little coward. I WILL FINISH YOU." But we all know that's a lie because if he buzzed around me again I'd just scream and run. I headed inside to get more coffee, because maybe if I was just a bit more jittery it wouldn't have been such a drastic shock to face such a brisk morning bout of anxiety. And during the duct-tape creation project my son decided the best use of the stuff was to rip it off and cover parts of my body with it, like my mouth and my legs and finally I stopped him so he wouldn't bind and gag me and then who would make dinner? Who would have to help with bath? Who would. . . wait. Why was this a problem?
I was eating today. Laughing and folding lettuce leaves with my fork. Hoping I wouldn't be the last one. Picking up the check. Feeling the smooth blue cheese in my mouth.
I was complaining about how folks these days don't work as hard as they used to, our new generation's annoying entitlement attitude. I mean, I had to work really hard growing up. The guy I was eating with was like "I know what you mean. When I was in Afghanistan on my second tour the men kept complaining of how f*#king hot it was, like we all weren't in the same f*#king tank missing our families and watching for terrorists" and I was all "Okay I was going to talk about how I had to decorate all those cakes in high school for the Fall church festival but you win."
I was praying today. More like hanging my head, since the shame of my foul mouth and my disobedience and my lack of trust hung like skunk stench through the windows. I always reach out to God in the aching times, the times when life pounds down like a hammer. But in the everyday I grow lukewarm, like I don't need help and don't need grace and don't need one single thing but morning coffee. And I feel like God must be shaking his head at me, like a child who never learns.
God, please forgive me when my dependence wanes. When my concentration falls to empty laughter. In the hard times I'm a model citizen, prayerful and obedient. But in the happier times I feel kinda bad for all the Amy Schumer I'm watching.
But I swear I'm grateful.
Grateful for the way leather smells against my nose. Grateful when my son giggles and throws back his beautiful head. Grateful for my girl who said she wanted a clump of hair to fall down because that's the way she likes it. The cool smooth of ice cream on my tongue. The moment the kids run to me as I see them. Mornings on the front porch before they both rise.
I am so thankful for my life that it chokes me up sometimes, sitting there in traffic or on my daughter's floor or at a business lunch. Sometimes I think that might be all I can do, just being thankful. Life goes up and down, up and down, crashing and building up again.  In the building up we are again preparing for the falling down. The glorious and guttural, screaming and laughing.
Thank you, Lord, for the strange and beautiful waves.
—
photo:
(three w's).flickr.com/photos/8136496@N05/2797812368/in/photolist-5gew9h-dqEfi5-oLqrq1-annN68-prUxkt-85YSK-9p7UgZ-9pnGzJ-bmSa2R-ptimwV-xpjxHU-hniRn2-73vNGR-5Yiy99-xqPCBg-5CxmQg-bia714-8QfRNb-bLtBTr-akfTKx-94jTF2-oLCXbe-9rwouW-e5cnRy-cSaLoq-7HjfgN-6U7CXH-aoeSB6-N7Ewp-9pbfqf-p2Jgo4-pZhcWA-9po4JG-9pbnbj-8mE5ag-79Ashi-gk3w6-6cvZrk-C7zwb-qCSkeP-6afpWn-n7x7H-mfLvU-qpLRZs-5B83cp-bnrfFW-gKAyYK-9pjJA8-413jL-9Ndj98