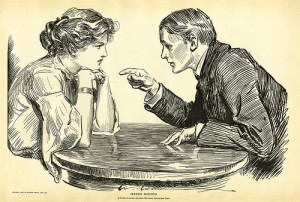 (1)    You have to purchase replacement shoes.  As in "this is part of my wardrobe so it's totally worth the investment because the leather is peeling off the back of these cheap ones because I hobble across pavement all the time to and from my car and don't tell me your job is casual or you work from home and all you wear is flip flops because I will cut you."  Anywho, back to purchasing heels.  Black is generally best.
(2)    People come into your office leading with statements like "I hope I'm not interrupting you but we have a situation." Tantalizing.
(3)    Sometimes when it's a boring Tuesday you can just wave your arms around in the hallway of a clinic and say things to a supervisor like "we can't have our doctors left bare and bleeding on the stand and left with no defenses and when I say 'medical record integrity' I am dead serious," and watch new nurses just blink and stare at you in fear and then you're all "just kidding I'm just looking for the bathroom."
(4)    When at cocktail parties, you just say you work in management so you won't get asked how much child support some deadbeat ex is supposed to pay or whether a landlord has a duty to get rid of the cockroaches.  Because when drinking a cosmo at a swanky bar you don't want to talk about someone's bitter divorce and/or roaches. Mostly no to the roaches.
(5)    Why is someone here at this swanky bar that lives in an apartment with roaches and is not instead at Home Depot buying some sort of spray?
(6)    Saying you're a lawyer makes one think you're rich, when in reality most real estate salesman and drug reps I know make more money than lawyers.  Unless you successfully sue Exxon, in which case you're doing fairly well and don't have to worry about roaches. Or dates.  Or heels with worn leather backsides.
(7)    Sometimes when you're skimming an article about a mass layoff, you begin to wonder if proper notice was given and start randomly researching the elements of a certain statute to see if that company did their due diligence and wonder what their severance agreements looked like and you're all GOOD GRACIOUS WOMAN IT'S THURSDAY NIGHT DRINK A BEER AND QUIT RESEARCHING RANDOM CRAP THAT HAS NOTHING TO DO WITH YOU, YOUR CLIENT, OR YOUR LIFE.
(8)    Often a lawyer thinks "why didn't I just become a language arts teacher or perhaps work in the Estee Lauder counter in the mall?"  Why is no one saying anything. Maybe it's just me.
(9)    Being a lawyer means you read a lot of words, so if you are trying to date a lawyer you should stay away from statements like "hey you're pretty I really don't spell too great but maybe we should go on a date my name is Doug?" Just a tip.  A random tip I know nothing about.  Not that I'm a spelling or grammar nerd (Seriously, Doug? Seriously?)
(10) When you get a phone call and the Caller ID says "Office of Inspector General" or "Federal Bureau of Investigation" it's best to just go to lunch because those people are so boring and have no sense of humor.
(11) And lastly, when your head hits the pillow at night, you can say with a deep breath that you helped create a lasting impression upon the world because you provided a legal opinion on some random subject that tomorrow, no one will remember.
It's lovely being a lawyer.  Honestly I'd pick it over any other profession.  It keeps the lights on, helps me afford bug spray, allows me to make fun of myself, stocks my closet with shoes, and keeps my brain active so when I'm old and senile the health care workers will hear me shout "RES IPSA LOQUITOR!" at the top of my lungs as they feed me pudding. And honestly, isn't that what life's all about?
—
Photo:
https://www.flickr.com/photos/69184488@N06/8091027271/sizes/m/in/photolist-djYCwc-bFk1NR-8aff6R-c8V8Em-eHj6Be-ff8wth-9Qoo8Z-ehZE6X-awyExV-g1KQ9p-a5FMNo-g1KHa3-bapa4P-g1KZ7p-atMLeP-dDFnsH-drbbq2-bAWJxe-drb26U-bo2TuS-9KcQNo-b4N7Vi-g1KXpN-g1KxNh-dravcT-bap7qM-dfwcL9-cvcGRQ-cFaD11-g9jp6i-iFiov3-dDFLiV-ceZiJ5-ceZbmJ-draE2E-7GSFBT-9fP1au-cqxYZG-9zdAAF-ejD5JR-9ePFJY-daMu6v-gwmN7H-dLDZcD-gwmAC2-dravCe-g1KNQJ-g1Ljrp-cK43Df-7Jta4f-g1EDcJ/