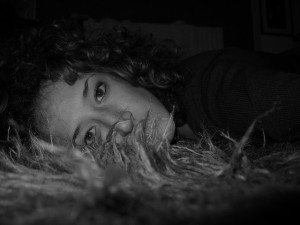 I trudged upstairs after putting my children to bed to write because I know what this night means and somehow I needed to address it.  This morning on the way to work I cried, not for Jesus but for my own weaknesses and insecurities, because at times I feel so fallible and small.
I had such a long day in heels, crafting language that passed muster under federal regulations and dictating to my paralegal the content of an agenda for a meeting in an hour. I ran around like a hamster on a wheel preparing and meeting and writing and drafting. I nibbled on salad and tapped messages into my bright shiny phone and answered emails as fast as they fired.
I sighed as my children refused to eat the dinner I set before them. And tonight when my daughter failed to listen when I told her to get out of the tub I yelled, my sharp knife-words cut as I scolded her to be respectful and pay attention.  Her heart was hurt and she sulked away.  But it felt good to yell, to demand respect. To show that I have some authority in this home.
I am also so painfully aware of how I started many of the previous sentences with I.  Because that's the world we live in, self-focused and ego-driven.
Yet it's the night before the dawn. When Jesus begged his closest friends to stay awake while he prayed a prayer so earnest blood likely drained from his tired eyes. The type of tired that is beyond exhausted, where you can barely move and yet you can't stop praying because life is ripped out from underneath you and it's all so damn hard. The thought of a slow agonizing death is simply too much for one to bear.
And yet these friends of Jesus, they walked so far. It was dark and it was late and it was Passover. The glasses of wine made them all tired. "Could you not keep watch for one hour?" he said to Peter as he sat sleeping – probably slumped over – because what-are-ya-gonna-do with all that wine. I can see it, Jesus shaking his head, like "I try to teach you fellas and every time I turn around you're all missing it." I'm sure my pastor feels that way most of the time with his flock, just a bunch of rich middle-class slackers.
"Keep watching and praying that you may not come into temptation," Jesus said to Peter. "The spirit is willing but the flesh is weak." Jesus said this to the man who swore to never leave, or abandon, or betray.
But he did, three times before the dawn.
I mean to be kind and patient. I really honestly do. I want to get down on the level of my children's eyes and talk peacefully about respect and consequences. I have chore charts that go unattended and morning routines that are half-followed. But what the hell with this guy who thinks he owns the road in rush hour and why is the dog barking again when I already fed him and DON'T THE KIDS SEE HOW HARD I'M WORKING AND IT IS ALL FOR THEM.
The spirit, it's all charged up. On Sundays I hold palm branches and sing hymns and fist-bump online about pretty things. On facebook I put my best family pictures forward. On Easter I shall wear blue and sing Messiah. But oh, the flesh. It is ripped and torn by Thursday, when things grow dark and our pasts tickle our hearts and we are filled with passive aggressive rage. So we yell and sulk and it feels pretty damn good. For now we'll just close our eyes for a bit and rest.
Tonight after I thought the kids were asleep, I heard my daughter's voice. Small and beautiful, it called my name like a song as she lay there under her purple coverlet. The one with flowers and little lacy stripes. She couldn't sleep, and I curled up next to her and encircled my legs in hers. I put my face next to her damp hair that I had braided into two delicate braids. And I cried, my tears so close to the body that came from me, out of me, a part of me. I said I was so sorry that I yelled, that I am so far from perfect. Sometimes we don't act the way we tell others to act. And I asked her forgiveness. "No one is perfect," she said in that elegant little eight-year-old way.
I am filled with such sorrow, Jesus, for falling asleep. How can you ever possibly forgive me when I'm so selfish and unworthy? For thinking you can wait until tomorrow, because of the wine and the meal and the business of life that sort-of interferes?
So I trudge upstairs, even though it's been a long day and I yelled at my daughter in the bathtub and my childrens' plates of ham and potatoes are half-eaten on the table. But I needed to document this succession of days filled with grief when the veil was torn. When heaven wept. When our Lord was tortured, and bled, and cried out to a father who surely hadn't forsaken him.
Easter is coming. I know this because I've read the book jacket. Because my daughter has already forgiven me for the yelling. Because if my love for her is a tiny indication of the love our Father feels, I am protected beyond measure.   But this is a hard night.  It is a dark Thursday. A night of our own failures. A night when we betray even the one who loves us, because it's human nature.  Because no one is perfect.  Because we need Christ more than we need the virtues of this world.
Stay awake, friends. As hard as you can, pry your eyes open wide. The Easter son will soon rise. 
—
photo:
(three w's).flickr.com/photos/14960156@N02/2243258820/in/photolist-fYGk5-4Zotm-5XFvSM-oEdGLh-9xZKW1-7c52JL-8wZJj2-4qehGd-MxDkD-Hnbq6-4vt1Ww-2v7jtD-b541ia-2D99R7-6KXzB1-MNQwg-9BfCbM-noCWzA-nqoZbi-nss8JV-nqoYsz-noCVk1-noCV6y-noCUQo-nqHLsC-nqoWZz-nqp6Ry-nqp6v3-nqFnWa-7bZgc5-3VxkP-6H5np-o7iymw-8cNS9H-eokSrB-3gpMgo-naziww-eokKfz-qBfaau-4TmufX-7q4uD5-eqXGi-a1vKNX-8pddWZ-9rZshd-5734oN-5qmwAg-8Hnxca-RCVZ-8dpmCX