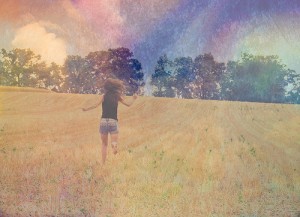 Being happy is weird.  It makes your stomach tense up and your heart beat fast and you wonder if you might possibly have indigestion. Sometimes you've lived so many lifetimes bearing burdens that when happiness comes it's a bubble caught in your throat or a light that's so bright it's blinding.  But you have a choice to cough or to laugh, to run or to stand. Your arms outstretched so heartbeats can collect like raindrops upon the tip of your nose and drip down slow.
It's the moment you forget to take pictures or write it all down because you can barely focus on the swirling mass around you. It's the way your mouth can't stop curling.  You try to stop it, that dumb grin, but there it goes again, escaping.  And your eyes twinkle and shine like a million stars. It is then you know you're really living and not just chronicling the living.  You're loving and not just dreaming about love.  You're viewing the redemption story, woven so perfectly you want to rip it into shreds to make sure it's real.
So you laugh.  Big hearty laughs that hurt your side and make your tears run and you sit in church with your head down repeating small phrases that come to mind in no particular order because of all that delirious confusion.
It does not come without a price, the happy. It follows years of trenches and warfare.  Plodding and aching and yearning and dark.  But here you are, laying atop patch of clover and rabbits, of milk and honey, honeysuckle in the springtime that overtakes your senses and makes you breathe in slow and deep. "Don't hate me," you whisper into the ear of the sirrus, the high clouds atop the wind, for even they cannot see the sun shine as brightly or the sky so vividly as you.
It's rare, these moments. Like firefly lights or jewels in the sand.  They are sprinkled ever so sporadically in the course of a life.  A child is born.  A perfect morning.  The kiss of a child.  New love begins. And in these very short flashes you stand with a queasy stomach and wonder if it will end.  Because you know the darkness and the demons, they are coming.  You know the dawn is followed by a midday that's hot and piercing.  There is a heavy afternoon to every new morn. It is the tragic world we live, and we cannot escape it forever.
But for today, relish it.  Taste it on your tongue. Let the brightness overtake you for a while, not to chronicle it or to tattoo it but just to live inside of it, for when the hard times come you'll open up the bottle to smell the honey, pour out a little of it onto your finger, and put a drop on your tongue to sustain you.
Sometimes it's hard to be happy.  You pick up a diamond between your toes and wonder if it's just a rock, or whether it will lose its shine, or whether this brilliant season will cease.  But let yourself feel again.  Open your arms, your heart, your eyes, your hands.  Catch this emotion you're so unaccustomed to – and just hold onto it for a little while.
Let it flash like a firefly, grinning. Let the happy burn.
—
photo:
https://www.flickr.com/photos/47932340@N06/5900455185/sizes/m/in/photolist-9ZpnKX-72cN87-h5BoH-8kdTNH-6hTVcd-kmMoua-Va2iB-7vTbGh-4jJkWH-h7ibz2-jSXr6H-8PhSJz-dZuABv-6GHPMD-85y4fC-8ik4vs-8Si9Am-9eEJ7B-5HJwjv-9DyA5j-nm8rCR-8tFVZC-5WR6TC-4F3dCQ-bFefcU-bgAGw4-k8ZTi6-kcPtgK-5WFMty-86ajvj-7fmaVy-dy64jW-5Ae4R9-c1jRtu-baQRzK-o4M9qN-4Vbz8L-fPUtzL-6DiBpX-oaXdZr-djRWSs-5VWNf4-epZLjM-bhk7Ya-fbf8An-6nFBXd-7QWhu8-jcdLXL-5Wkbxr-iHeurN-87P3Ze/