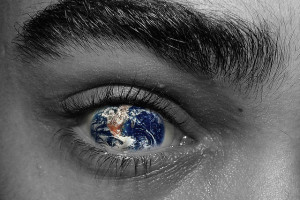 It's hard to go back and read essays I wrote years ago. Before the divorce. Back when I was making dinner and singing songs and baking bread. I shake my head at how naive I was. How sheltered I was. How ridiculous of me to make that much bread. The world as I knew it fell beneath me like a molten floor, and I simply crumpled in the melting.
It's hard to dig even deeper, to when I was first diagnosed with cancer. When they told me they'd probably take out my eye, and it would ruin a perfectly fine legal career. I'd be filled with radioactivity and wonder every six months whether that melanoma would permeate my liver with death and have to look like a pirate with a patch on a Tuesday. I had needles shoved in my eye to relieve the pressure and later it was filled with oil just to hold up my stupid retina. Imagine, I told my mother. An eyeball filled with oil.
You know what else is hard? To have been strapped down to a table before surgery, because your baby is seven months along and you feel his heart beating strong. To feel his kicks and his little hands and to know you are his sole and undivided protector. And they tell you they have to operate and remove the cataract or your eye will explode but you refuse anesthesia because of him, inside of you, living. So you sweat and you can hardly breathe but for the tube and you are covered in plastic and iodine. "Whatever you do," the surgeon said, "you cannot move." "Oh God," I thought. "Here we go again."
And oh, my first born. She exploded out of me as a brilliant fire. And yet the staph infection set in, and my gut raged, and I was in and out of being present, and the pain hurt so much I didn't even feel it anymore. They cracked me open and took out all my organs, and then put them back again, freshly flushed with a saline rinse and Vancomycin. For a month I lay there, turning and searing and begging God to someday let me see my baby. I put my lipstick on despite the raging fevers. I tried to pretend I didn't feel the stabbing pain of pumping with a ripped-up gut in a delirious drug-induced belief that I'd go home and breastfeed my child. I cracked bad jokes to the nurses, thinking it would earn me freedom.
It's hard to go back. To take a moment to stare at the burned parts, the ones seared into the fabric of my life. I have not just waded, but tore my boots off and plunged head-first into some very troubled waters. And each time, I asked. "God? Are you there?" All those Bible stories I learned just seemed to fade away. All the times I sat with my gloves on in church on Sunday just seemed like fools gold. Oh, God. I am too young to die like this.
There was no still, small voice. There was no Charlton Heston voice either. There were no words at all. But God spoke straight into me. I was fully loved. He was present. I did not have to handle this. And although I didn't hear this last part, he was probably also like "take deep breaths" and "so when we are done here let's not have any more children, K?" and "girl, that bread just goes straight to your hips so for the love of heaven eat more kale."
Sometimes it's okay to remember. Because in the hurt you see all the healing that's taken place over a lifetime. You take note of the way in which it's formed you. You recognize the power of vision – in hindsight – even with one eye.
You see for the first time how far you've really come.
—
photo:
(threew's).flickr.com/photos/mind_scratch/2434031231/in/photolist-4H63FH-9HmR8k-r3TnFb-4Tp2di-iWrphM-qeGoqt-ri7PkJ-6f2FxK-rhNm52-8UoM6P-vSxh7V-omYNZ-r3ZD2Z-5wSNM4-cuEJzf-4XUFCv-7ibUj9-5W5zEW-4R2jHH-4gzf2p-53sKUX-byzF4r-hMoJcN-36wjrG-accrur-9Hs5Ki-6NL6bf-xVeWa-AKpJxG-gaJ6hP-6tjjRP-AS1q-gaHyhA-9G9yBa-92DtyB-92cKEW-7xLSK-gaHoQi-b7snfx-6TALYJ-7f7etw-CGFz6-b8LCmk-oANj62-4n6mBG-axhGdL-bQKvVr-xTFgSz-xTFe9i-dPfVV