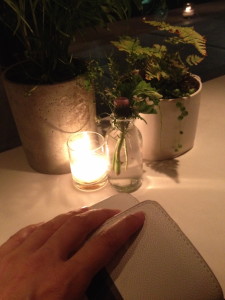 June 2014, ABC Kitchen, NYC, right before he arrived
My first date with my boyfriend was late on a sultry hot New York night. He was there for business, me for no reason whatsoever except for it's New York and sometimes I just go and walk down the avenues lined with trees. It was a non-date, due to the fact that I was so religious and all.
I don't know what that means, really, that I'm religious. I know that word means an organized system of worship, and I do love me some hymns. I have sat on church pews my entire life, and when it's warm you'll find me on my rocking chair on the front porch with coffee, letting God just wash right through me. And in the quiet after the day has closed, I talk to the one who created me, like a child to a father, who in my mind is still always creating. I have had deep moments of gratitude for the blessings I do not deserve, and feelings of great peace. Sometimes I offer random prayers for people like buckshot. Other times I just curl up tight and say nothing. Does that make me religious? I really hope not. The religious are all making us look like idiots.
When we first began to email, this man and me, I explained this. I was looking for someone with whom my faith would never be a barrier, since it was such an important part of me. He was quick to point out that we probably weren't a relationship fit, since most religious people he knew fit in a very tight box. So this first dinner was more of an intersection of two minds rather than an intersection of lust. And yet I will tell you, dear friends, that the start of fire is a powerful thing. For even in the early days we were waiting for an email, waiting for a message, waiting for smiles to sweep across our faces at the thought of the other. We could hardly stay contained.
I look around at this world, and I am filled with disgust. The hate is growing, the stupidity looming larger. People talk like they know something I do not, as if truth is just outside my reach and if only I could try harder. Look more deeply. Adopt a child. Travel to Haiti. Buy this book. And the crazies come out with their pamphlets and their leaflets and their strangely judgmental words, words I do not recognize, and my head cocks to the side because I don't like these people and I don't like this message and frankly, I don't know what the hell I'm even doing here in this religious camp.
Did I mean to take a left and I ended up taking a right? Who are my people?
His flight was late and it was a quarter past ten as I sat by the window fidgeting with my purse. I was waiting for this intriguing man with whom I had been writing, online letters back and forth like the old days. Like a candle, I melted among the sentences. I was waiting to see what he looked like outside of his photos. Waiting for roast pork with a crackle crust. Waiting for wine I wouldn't even taste. And he appeared from a cab, rushed and hurried, his dark hair swept back and his glasses on. He was apologetic for the delay, but all I wanted to do is touch him. From the moment I met him I wanted to climb inside of him and know him. And that lovefire burst open like an atom bomb.
He didn't see me as religious. He just saw me. And now our lives are forever intertwined, and he sits with me in church and holds my hand and I listen to his deep voice whisper The Lord's Prayer from his early Methodist days. He doesn't mind that I pray before dinner. He thinks God is larger and bigger and different than I do. He thinks churches are mostly strange and boxy and he maintains a healthy dose of skepticism. We talk about other worlds and other planets and how people are all on a continuum, of sorts.
That's all fine by me.
I thank God for this man. He is kind and generous and does what is best for others before himself. And he knows I love Jesus. It is hard to explain just how much I do. I don't care if others do, or if others don't. I don't care how others spend their days, with their gay lover or their grandmother. I don't think it's my business to pry into anyone's heart or point my finger at people drinking gin or rip guns out from underneath people's mattresses. All I want to do is try to live a tiny shred of a life that showcases love over hate, and let God do the rest. I don't want to read any more books or feel any more guilt. I just want to lie there when the day is done, letting God wash me clean through.
And that's fine by him.
On our one-year anniversary we went to Paris, and we sat in the Saint Chappelle Cathedral and listened to Vivaldi, and despite the fact that it was hot and I kept falling asleep I thought I couldn't be any closer, to God and to love and to happy. Is this religion? To love God with all your mind, and all your heart, and all your strength? To beg God for your life itself to be a witness, to neighbors and strangers and those who keep pulling the trigger and beating their wives?
I am no one. I'm just a girl with sinus problems who happened to claw her way through law school, who scraped by cancer, who fell on bathroom floors in fits of seizures and sobbed my way through a heartbreaking divorce. All I am is bones and blood, who managed to keep picking myself back up by the sheer will of God himself. I have no grand lessons. I have no books for sale.
All I know is God. He brought me through desert upon desert, trial upon trial, to this day. To these children. To this essay. To this place of independence, and dependence too. Toward this man, on a late summer night, on a non-date in the city.
Let your heart be open to this type of love.