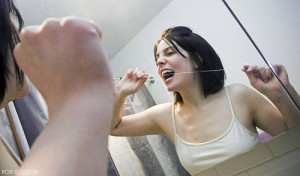 (1) If something makes you laugh, it just does.  You don't have to know why.  Just stick with what truly makes your gut seize and you'll be okay.
(2) Please floss.  It's boring and awful but so are cavities in-between teeth and then you have to endure awful drilling sounds from the dentist chair like nails on chalkboards so PLEASE FOR THE LOVE JUST FLOSS.
(3) P.S. Your mother does not often floss because she wants to pop out her dentures for her grandkids.  See (1) above. Forgive her.
(4) Sometimes your body has a desire to move to the beat of the music.  Feet are notorious culprits. Please do not resist this urge.  It's a natural and beautiful thing to allow the beat of song to match the beating of your heart.
(5) Cursing can be fun.  Don't tell anyone I said this.
(6) I know that right now you hate onions and mushrooms and olives.  But someday try them again.
(7) Travel to New York alone.  Pack walking shoes and drink coffee and explore all the nooks and crannies.  It's okay if you want to take pictures of signs or storefronts or subways. Sit on the second row of a Musical.
(8) Keep a journal of your thoughts and feelings.  For example, I just tonight looked at your diary and you wrote "sometimes I'm bad at spelling."  I think this is odd that you can write down anything in the world – made-up worlds about unicorns or glitter hair gel and yet you choose to write down this – but hey.  It's your diary, kid.
(9) Don't accept the premise that "it's just food." It's not.  It's what we put into our precious bodies.  It's what creates memories.  It's what makes our eyes roll back and our tongues drip with drool.  Food is energy on all fronts.  Learn to appreciate it.
(10)               Friends are more valuable than jewels.  If I could say it in multiple languages and hang it from banners in the sky, I would.  Because I want you to cherish them.  Love them.  Learn from them.  And keep them.
(11)               True love is elusive.  It's scarce.  It's the stuff novels are made of.  But it's real.  Please don't give up trying to find it.
(12)               I think by now you should be flossing.
(13)               If you get a poor grade, consider it an opportunity to improve, not a reason to call yourself a failure. I love you regardless of your status in fractions. Someday you'll be sitting in a boardroom and you will lean to the person to your left, asking "what's eight times seven again?" I mean hypothetically this might happen. Focus on flossing.
(14)               When you have the opportunity to travel, be on television, or bicycle across America, you should absolutely take it.  Be bold and wild when you are young without doing any drugs of any kind. Do I need to repeat myself.
(15)               Pray this often: "Please Lord, help me maintain a soft heart.  Full of warmth and forgiveness and compassion."  This helps from building up stones inside that cannot be broken.  Because a hardened heart is a life of misery.
(16)               Don't waste time on television when there are books.
(17)               Stinky cheese is better with wine.
(18)               If you don't believe in God, Jesus, the resurrection, or the Holy Spirit, I don't hate you.  If you don't want to read Genesis or go to church and want to walk around scowling wearing nothing but black t-shirts, I will still lovingly claim you as my own.   That being said, I'm going to expose you to love as I see it. And I will sit with you in the hard nights when you need me.
(19)               I am your mother.  This means you can always come home.  You can always call.  You can count on me when everyone else fails you.  I am delighted in the mere existence of you.
(20)              Prayer works, even when you can't see it.  I will sit tonight and pray hard for you.  Because you, my dear and beautiful children, are my fortune.
(21)               Floss.  In case I failed to mention it.
—
photo:
https://www.flickr.com/photos/robboudon/422350861/sizes/m/in/photolist-DjEcp-ANdgH-dYycQ5-9WDCNU-6PAXic-87s9nX-6fsmxJ-5ZXaNH-8gGrhR-8vXGMG-5eXwEr-6aaP9Y-2RZnQZ-e9NiXg-7kRBmJ-71vwmH-5A8r9w-64WiHX-5mXdMw-71ii5e-e9NhKK-8myhAn-6LrPfT-7fDMvk-6YEqFb/