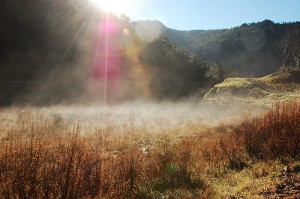 I woke all alone, curled on sheets
Tangled up in white down.
Outside a diamond sparkled on a leaf
The cut and polished dew
They say morning has broken
But it doesn't seem broken to me
Rain-soaked weeds burst through the earth
Leaves shimmer like tassels to the wind, dancing.
It seems like night is the broken one
Heavy and dark, my eyes ache
I lay naked on white sheets
Tethered to the ticking time
At 8:39 the world turns new
Diamonds in the treetops falling down
I rise and tie my laces
Catching gold in maple leaves
I inhale rich wind
Kicking coins in dirt like tin cans
And along the road home I feel it
Jingling in my pockets.
I am wealthy in the healed morn.
—-
photo:
http://www.flickr.com/photos/41365291@N06/8372497451/sizes/m/in/photolist-dKReNk-eScBwD-eRXdyh-aJbbQg-cvS5q7-KuK9J-479LTQ-9M2AtW-8vdbM1-9Ccf21-9Aqk71-9AYKH9-9D35EC-7AvJoq-shqx9-cChoWd-cChndf-f2oDyY-cChpXu-8Vkdmd-afPjjD-8ucrbd-8qi6Q7-cdh9rE-awiHg8-9LUPwR-dYDDZS-6kVqUA-68bpF2-dKRage-dmoND6-8xNfLf-f2zmRV-bLqoEi-bxvGD9-bLqpm6-bxvHFE-4WScpU-dyyTEi-djtW5S-4TShqG-dmAEKa-6k5a4e-f2zmP8-aeBhUj-66Ytp6-673HWs-66YtAr-c3fikj-8xNcR3-8xKbcB/