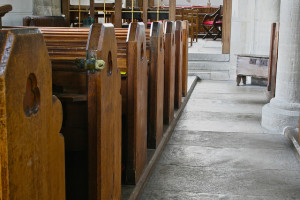 I sat in church and was agitated.  I fiddled with my skirt.  I twirled my ring around in circles.  I looked out the window to the outside world, brimming with birds, the slow wave of oak tree branches, cars parked in the Texas sun.  I longed to be there instead of here.  I waited for the next time we stood up as a congregation, and I whispered to Mark, seated next to me.  Let's get outta here. It was something about the choir robes, the way the scripture was read, the way everyone seemed so homogenous.  It seemed sterile, as if the very grit of life and reality of our very selves was missing, and I was sinking in a whitewashed hole.
Get me outta here, where I can feel the heat prickle my skin and know that I'm fully alive.
And yet in a sudden departure from routine, we were encouraged to sit instead of stand as we sang that week, much to my disappointment.  It was as if God was giving me the stink eye, which my mother used to do when we were kids and made too much racket during the service.  There was never a prime opportunity to leave, so we stayed.
I was bored.  That's the simple truth.  I've heard these hymns.  I know these prayers, these verses, these sermons.  Even the very parables of Jesus are so familiar I'm like "Yes yes let's grow seeds in the fertile soil. Excellent reminder.  Also, let's stop by the grocery store and have roast pork for dinner and I wonder if I can find an antique door for our bathroom at a garage sale." Perhaps I'm the very epitome of the lesson – the one who lets the worries of this world overtake her, and fails to relish in the delights of being fully loved.  I get it.  But I'm still so seriously bored. And an antique door would be nice. Maybe I'll paint it white and rub it off to look weathered. And if you haven't made a pork marinade with strong coffee and molasses, we need to talk.
So one thing about my past you may not know is that I've been raised on a steady diet of music.  I've taken it seriously.  I trained and practiced.  I went to an excellent college with a music department to be rivaled.  We toured and we sang, we hit overtones with our straight tone and kicked ass with our bellowing vibrato.  Every day at noon for four solid years we'd gather, and work hard, and kick ourselves if we made mistakes. It's been a passion of mine my entire life. I don't sing much anymore, but I happen to have one of those voices that sounds, well, choral.  It's large and operatic, and sometimes even bluesy in the right settings.  So oftentimes in church, people turn around and tell me I have a lovely voice.  I'm always appreciative of these comments.
But that day, I felt terribly guilty.  For after my hardened heart made it an entire hour – which is something I can so naturally flit away at home watching mindless television but then seemed like an entire day's rationing of time, a woman did just this.  She turned, and told me how beautiful my voice was, and I was racked with guilt.
All I wanted to do was leave this place – this house of God, this place of worship.  I wanted to run free from its oppressive air and seemingly stuffy people.  Did they know the hurt of life? Did this crowd live out a daily walk of love, with their own neighbors, or do they come here to say the right things and check off all the boxes? Is anyone here below the poverty line, or know the sting of being the outcast, with a different skin or language or heritage? I'm clearly very sanctimonious and can appropriately make these judgment calls about other people. I got my priest pin the other day in the mail (Amazon Prime! It's real gold!).
So after my stinging judgment about my church compatriots, who did nothing to deserve my inner lecture, and my derailing thoughts of antique doors, a woman turned around to say something complimentary about my voice.  It made my heart fall.  Not because I thought her comments were necessarily true – she was like 90 and my voice was undoubtedly flat – but it brought to the forefront the darkness of my own heart.
My, how we as a people still resemble the Israelites, who after leaving the horrific slavery of Egypt wandered about in the desert, not knowing when Moses would return from the mountain, and begged Aaron to give them gods.  Something they could touch and feel and see.  Something that would give them hope again, and inspire something inside them.  Something interesting they could carve out of gold. They were bored, for heavens sakes, and tired of the old familiar lessons.
And yet Moses interceded.  God forgave.  The love between a God and his people was not forever interrupted by their lack of appreciation or hardened hearts.  There is always mercy. There is a constant supply of grace for our restless spirits.  There is an awakening, sometimes in the oddest of ways, to remind us of such.
So today, in the silence of my bedroom, I sang.  An old hymn that I love, that I've sung so many times before.  But it brought about new life.  My voice was in no way beautiful.  It squeaked out the tune and my voice cracked, because the tears streamed down.  Because I am not worthy of such benevolent and overwhelming forgiveness. And yet it's offered, every day, the bread and the wine forever ours for the taking.
I am grateful for this type of love. It is ancient as the hills, and yet as new as the morning.
—
Be Thou my Vision
(an old Irish hymn from the 6th century, translated to English in 1912)
Be Thou my Vision, O Lord of my heart
Naught be all else to me, save that Thou art
Thou my best Thought, by day or by night
Waking or sleeping, Thy presence my light
Riches I heed not, nor man's empty praise
Thou mine Inheritance, now and always
Thou and Thou only, first in my heart
High King of Heaven, my Treasure Thou art
—-
photo credit:
(threew's).flickr.com/photos/119983612@N04/13126453234/in/photolist-kZWved-NYAKpQ-QMHYeC-7cZsx1-qZ5RUe-9t6NmX-S9robQ-b3Z3g8-rfGUTX-2r7jHi-dm2VYJ-4aoLLq-nomqZN-63haRn-W2pSdx-7XMsiK-eFNA67-RpBoyC-7cZsu7-Syeqbj-4t67No-cpk7E-7AR3hi-cpk8L-5to9cB-c7gGZ7-9FYb8Q-cRbky1-6w67TW-MabNF-5sRpK3-67hybS-dypuo8-djxLqk-bqoFX7-5tswvL-8xXH74-qmqs9h-aEMJkz-3eV1gM-cpk7o-B1s2c-QrtLw-7uEUYq-ohStm7-7uB2kK-e7y7Vv-dm2Wtm-au7e8E-8bMeqL