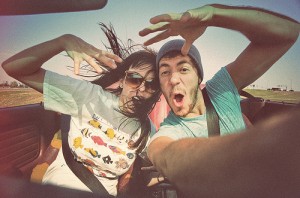 Most of us live sensible lives.  We drive reliable cars. We ensure our children have green vegetables and eat organic chicken.  We rent bounce houses on birthdays and allow our daughters to be princesses and when Fridays roll around, men grill steaks in their chinos and their wives say "they're wonderful, dear," and at night these women take off their make-up.
And the days, they change numbers. The t-shirts turn to sweaters.  But it's all essentially the same.  Day camp on Monday, spin class on Tuesday.  Pancakes on Saturday and church on Sunday.  And we smile and cook lasagna and say hello to Sheila-and-Bob that come over for a beer because that's what good neighbors do. We have grown so adept at hiding all the pain that comes from living this bloated American life that we tell ourselves this is it – the life we've yearned for.
And then one day, when you are driving home thinking of making crunchy tacos, you hit the familiar turn toward suburbia.  The brick house on the left, third street to the right, named after birds or rivers or wildflowers.  And that stretch of curve comes a bit too fast before it's upon you like a crosswind, and you have a choice whether to slow down or take it.
And by God, you take it.
Something strange and sinister swirls inside you like a demon. Instead of putting two hands on the wheel of your trusty Lexus and meeting up with Sheila-and-Bob and making tacos and pulling into Braeborn Court to the brick house on the left, you have a feeling akin to flying.  The tires grip the road and you narrow your eyes and you burn that rubber.  You turn that ache into fire and you realize the life you've been living is a shadow of the one you've imagined.
So you take a right instead of a left and head through the rolling hills without a plan, without a full tank of gas, without a good set of recipes or a dessert for the pot luck.  And it feels good to crank up the music loud and let it pulse with the beat of your chest.  You rip out the hair tie.  You open the sun roof.  You stick your hand out the window like an airplane dancing and you pulse in your seat to the rhythm of the street and you catch a glimpse of yourself in the mirror, shining.  You sing loud, laugh hard, and wave at passersby's like a damn fool.
And as the sun begins to set upon your sensible life, the one you don't seem to fit into, you head that Lexus back home to tell your children there are no more tacos. There are only ice cream sundaes, eaten at night by the pool at 10 pm sharp, and one cannot use spoons but must dive face-first into a bowl of strawberry, and everyone laughs with hot fudge dripping down their noses.  There is no longer grilling on Sundays, and spin class on Tuesdays, for you pack up your things and move to the mountains,  where you stand in your underwear on the ridge and raise your hands high – to heaven, to God, and to freedom. And your husband sips tea and kisses your mouth hard, the one he loves more deeply than before.
Sometimes a sensible life is not enough for a dreamer.  Life must be lived with wild abandon, with hands out the window and the sun searing skin and music raging in places that were once nothing and empty.  And you grit your teeth at so many turns, because that's what wheels are for, really, to burn up the rubber. And it feels good to go fast, and live full, and go out with a flame instead of a whimper.
—
photo:
https://www.flickr.com/photos/30781947@N08/6154656560/sizes/m/in/photolist-anSdYh-6GmH8Y-89hsBV-5sXYn8-72wTKE-9hb8fu-6s7Xn5-o51QXS-89kHcC-89kHgA-76tkFK-8d1zXA-eDmG9b-eDmuKb-8dj1z3-4aYwnm-72wSBS-5kSaJg-6E2BRp-aAguJL-7ZWdQi-9UJbpN-5rNX5p-6Ne1NB-57QCbe-8kT1Pq-6E6MF9-6E6MoA-6E6Mud-yeaR-7zuodN-88jsAp-4W6Sig-9FptMT-72wSzJ-b4cR9-72wT2N-LtNrz-7LpxZa-75k8s5-7LpyQK-ccHcuA-7LpzDM-4W6Rke-bVkSTK-8dj1uG-58cTnx-c7A4Sd-5ZLmMu-8cXi48-8uvBW1/