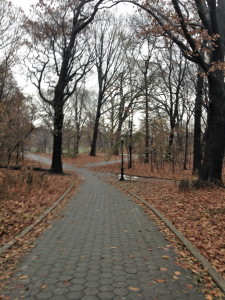 Prospect Park, Brooklyn
I am a lawyer.  This means that I think about future contingencies and the probability of bad things happening and how to protect against bad things happening that have not yet happened. It's a dance, this protection of bad things.  I run around carefully laying down arrows before people's feet, like "don't go this way!" or "HEAVENS SWEET MARY DO NOT TAKE A LEFT."
I write a lot of contracts.  Sometimes I scowl and shake my head at innovation or even compassion because of the inadvertent layering of future bad things atop the good.  I sit in meetings and scratch my head and answer text messages from ladies named Sharon.  Think of me as some muttering old professor, always trying to create walkways over water.  Bridges over bombs.  Pathways around trouble.  I talk to myself while walking toward the bathroom.  Maybe that's why no one takes me to lunch.
But here I go referring to bad things and good things like I'm some hand-wringing evil avoider.  It's just merging companies or buying widgets and no one is dying.  And let's not kid ourselves. I'm in Target at lunch buying socks for my kids who always manage to lose their socks.  I am no superhero, and my job isn't that important. Except when people are fired and laid off and punished for the color of their skin.  Or when someone works so very hard to build something from nothing, only to have that something vanish because of a deal gone wrong.  Every penny they worked for is just ripped out from underneath them.  It's all just boilerplate on a page that no one reads but the lawyers.
I do.  I read those words. I'm in a profession people turn to when there are problems, real or in the future. In some small way lawyers are a tool to avoid these atrocities, and are paid to fight against such wrongs when they surge. So it's only natural that when I see something, I rush on past it to the next thing, and imagine how that thing will be avoided by some reworking of this thing.  It's no wonder I imagine my children in college and believe they'll never pass Chemistry. How could they, really, when we spent two hours with dolls and imaginary tea parties and I let them skip bath and now we are all just lying in one bed with unbrushed teeth atop each other snoring.
I often can't just let life be. To lie in bed and look at leaves fluttering to the earth, or live inside of love without the fear of it being crushed.  I try to write out my current station in life so clear that it cannot be ambiguous, or terminated without cause, and will withstand the scrutiny of any judge.  And yet life is not a contract.  Even contracts we make between two people and God, as any family lawyer knows, can be broken. And we are left only with today – shreds of us, really – floating along.  And when we collect all those pieces to form a life again, we begin wringing our hands at what it all means, and what future is to come, and whether we will again be ripped open like a deal gone south in a smoky back room.
I didn't read the boilerplate.  The love will someday vanish.
And yet God tells us to not worry, us goofy little humans.  For if he cares for the ravens, he cares for us.  His yoke is easy and his burden is light. The same language is repeated throughout the scripture that we are and will forever be taken care of. The edges will be made smooth.  The pathways straight.  "Come to me, all who are weary and burdened, and I will give you rest." Matthew 11:28.
There are times that I fear the future, when flakes of me fall like snow and I panic at the thought of losing myself again in the weather.  And yet I cannot write a life that suits me.  I cannot create an air-tight pathway that my legal brain craves.  What I can do is trust, and pray harder than I expected, and smooth out the rushed and harried edges of my heart.
The other day I walked along the long pathways of Prospect Park on the edge of a rain, holding the hand of the One Whom I Love, and for once didn't worry about the future.  I felt solid and calm. I knew this is all I care to be, and all I care to live, and all I care to do.  And in the echoed and narrow aisles of the St. Patrick's Cathedral with scaffolding covering the stained glass like an apron, I grasped his hand and whispered to God that I am thankful this torn and beautiful life, just a drop amidst a congregation dripping.  For outside these holy walls where two-dollars-will-light-you-a-candle is a Burberry store with four-hundred-dollar scarves, and people drenched with greed, and yet I am on the inside of love.
I am a lawyer.  I worry about how current things affect future things.  Yet at the same time I am learning to not worry.  For I am a daughter cherished. His hand has written the most perfect contract that cannot, no matter how much I scrunch up my nose, be terminated.  And this allows me to rest in the knowledge that the good can outweigh the bad, and love wins.
My friends.  Those intellectual and hollowed.  Those working and labored.  Stop worrying about the protection of your current status.  God is the arbitrator and the judge.  The prosecutor and the defender. We have but to lift up praises to the heavens, and offer ourselves as consideration for such a lofty gift. And in return we receive peace, amidst our toiled human instincts and flawed minds.  We can finally come to Him, the forever and the infinite; the never and always.  Despite our drenched hearts that fear love. Despite our minds that tear at things.  Despite our very selves.  We can finally rest.