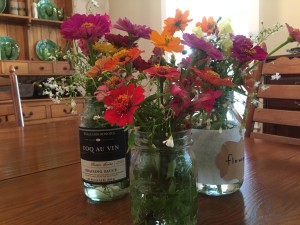 zinnias from the garden that I pluck by the handful and stick in random jars
—
I live on a stretch of land between country and town, a tiny little Ranch, Jr. that allows me to carry out my farm-like fantasies but still be close to a Whole Foods and organic strawberries. Without having to grow the strawberries.
And on this tiny patch of earth there is wildness, which I crave. I sit on the front porch and read my books and wish my coffee stayed hot longer. There is a bunny that we call Charlie that lives under the blue plumbago and there are now little tiny bunnies that hop around underfoot. We call them all Charlie, the little ones Charlie's babies. This Fall we will have chickens.
When I come up the walk I often spook a deer or a lizard or another one of Charlie's babies, and they all go scattering off like I am some monster that might hurt them. I want to say to them that I'm safe, that I am not going to step on their heads, that I come in peace. Unless they are cockroaches and then they should fear me.
And it made me think of humans, how fragile we are, how we scatter. It made me see humanity as one long sinewy collection of muscles, drawn taught with the impulse to run at the sound of footsteps, spooked by the haunting of guns and the constant fear of something.
Drugs make people jumpy. The body is dependent on something that their brain is telling them they need. People who are in love or desperate make irrational decisions. Even rather harmless things like sugar or the happy rush of being on stage or the feeling of lightness when we are winning at something can cause that feeling of loneliness when it retreats. Jumpiness when that something is not around. The good and the bad are all jumbled up together and we just want to run and hide, covering ourselves with blankets or bullets to the temple or pills. We almost crave hollowed-out lives so we don't feel anymore and can quit running.
I went walking down the street where I live, where few cars drive. I watched all the wild around me, flying and hiding, soaring and slinking. A deer ran into the bushes. A gecko slid by. Birds fought each other like knights in the trees, oblivious to me.
I say I like the wild. And yet I walk through spider's webs, their sticky lace atop my face, in my mouth, attaching to my arms. I prick my fingers when I pluck the agarita berries from the bushes. I'm always avoiding bugs on the tomato plants. When one flies at my face or there's a red wasp I let out a little shriek because it surprises me and I am scared. Imagine, scared of a little wasp.
We are all like this, wanting the wild but running away. So afraid of things. Running out of money. Being mediocre. Not being loved enough. Losing at something. Failing at our marriage. Letting down our kids. Worried of what people might think of us. Feeling trapped in the mainstream. Wanting to be different.
And I am reminded that Jesus is the great calmer of the waters.
So many people think I'm crazy with my Jesus stories, this God of mine who lets bad things happen. This religion of mine who casts judgment and hurts people. And I am sorry that the world has offered this screwed up opinion of some rage-filled maniac. That is not the God I know. Like anything, religion is cooked up from a batter of jumpy anxious people and can be just as toxic if eaten.
It's God that I love. The God that loves all, comes down to Earth for all, weeps for all, simply does not care what you look like or how dark your skin is or who you love or even what awful sin you've done that you are trying to escape from. We run from God because of our own inner shame, but it's futile. It's all seen, there's no need to run. We will grow weary soon enough. True love is what holds us when we are searching for something we cannot find. We don't have to use fancy words. We don't have to be eating scoops upon scoops of religion. We simply recognize love where we find it, and in God there is love. And then we can stop and breathe deeply for the first time and quit hiding behind bushes.
At my wedding I handed out little brown packets of zinnia seeds, years and years ago, because of how hearty they are in the Texas heat and how I wanted to represent how strong marriage was. How fruitful we'd be, how beautiful when planted. Like I could guarantee security in a party favor. That was before Pinterest even, so go ahead and vomit at how nerdy that was. The marriage crumbled. I still plant zinnias. Go figure.
We are always wired to run. But don't. Stand somewhere and listen to the wind around you, feel the sun on your face, the voice of truth in your heart. Stop being afraid. It's just the drugs of earth and media and confused religious people telling you that you are not enough, when you are. You are God's beloved, a wild and wonderful poem woven inside of a soul. A beautiful unique person with stories only you can tell. Don't let this world make you hide who you are.
I live on Ranch Jr. and dodge the red wasps and wave to Charlie's babies. I get in my car toward Whole Foods to buy strawberries. I still want to hide sometimes, from blended families and future teenagers and the thought of debt or moving or some other thing, but I'm working on it. Every day is another chance to breathe deeper, go slower, plant my roots down.  I'm learning to be grateful for the awareness of love.
—