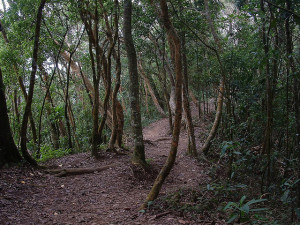 There are times I have no funny lines.
Because in real life, decisions are hard. Paths are confusing. My future seems like a mountain looming before me. Who I am to move mountains? In front of me is a hiking trail canvassed with trees and I haven't worked out in seventeen years. There is no way I can climb. So I pray for answers, but none come. I want the path to be made straight and not so damn high. Basically I want things to come to me, easy and consistent, like water out of a tap when you turn the handle.
But all I hear is the buzzing of flies. The path is still high and crooked, and I'm left sitting cross-legged, in a large wrinkled heap of me. Where is God in times like these? Why doesn't he answer me at church when I call?
And then I think, "woman, get yourself together." Think of something funny, something to overcome, something that will boost up your own sagging ego. Write, so you'll have readers. Sing, so you'll have listeners. Say something funny, so you'll be the one who is invited to things. I'm always wanting, like an insatiable thirst. I pick myself up, eat less carbs, wear smaller pants, get more sleep, clean my house, and tell the world that I can knock this hill. I can climb this mountain. Maybe with these efforts, my desire to be heard, to be loved, to be accepted, to be strong, to be married, to be needed – such longing will be quenched. Or maybe if I wait it out, the mountain will even itself out and I'll be able to climb.
Maybe God will see how strong I've become.
The irony is that longing apart from God has no boundaries. There are always more pictures, deeper and richer. There are funnier jokes, less wordy and shrill. There are more friends to love and more wine to drink. More lessons to teach and more decisions to make. Our children try our patience and challenge our stamina. In turn, we take more pictures, write more books, eat less carbs, do more laundry.  We may even disguise our desires as having a higher purpose, a noble goal, a gift we are born to share. We run and run without a finish line. And we are emotionally exhausted.
In the end we are sitting on the floor with a toothbrush, scrubbing until the dirt is gone. And yet we still feel filthy. We walk outside and see that same tall, crooked path. The mountain still looms, despite our best efforts to ignore it. We shut the door and scream, for who likes hiking anyway. Clothes from REI are dumpy and it's allergy season. Let's make brownies instead. Maybe we can satiate this never-ending, never fading, always consuming, need of ours to be fully loved.
Self-absorption is tricky. We have to get our head away from the mirror to see it. And all my own efforts – to stand tall and look thin and be funny and be wise –they are all foolish children's games, round and round and round with no end and no beginning.
God never moved. He never needed me to show off. He didn't need my service. He was never impressed with my frivolity or my ability to do things. How small and insignificant did I think God was? He only wanted my heart, and my aching desire to be directed at him for comfort. All God wanted is for me to make a choice – to throw myself at his feet and ask. Will you help me, Lord? Will you direct my path? Will you give me the strength in this day to walk this one step up this looming hill? But please don't make me wear REI, because it's not that feminine and all the sweaters are drab shades of green.
One step. It doesn't matter what I look like, what I say, how many people are watching. It doesn't matter that I've treated God in the past like a vending machine, wanting good things to pop out.
I am here now, in comfortable shoes. I am standing outside my kitchen and staring at this mountain I have avoided all my life. I am asking God to please give me the strength to take a step. One foot at a time, as fast or slow as He directs. I ask forgiveness for my arrogance, for my need for acceptance, for my vanity. All I want is to exist inside of the love that only God can provide.
He said yes. He always says yes to this question. So I take a step in faith, small as a mustard seed. I trust God will lead. He always does. And then the funny comes, because happiness comes, and love comes flowing out everywhere. It is sun shining through clouds, butter sliding over potatoes, syrup over pancakes. It covers and penetrates and fills me up.
Today is the day you can tackle that mountain. One step at a time. One prayer at a time. One small breath at a time. Even wearing REI. Even in ugly comfortable shoes. Because honestly, green is a good color on you.
—
photo
(threew's).flickr.com/photos/junctions/2937639265/in/photolist-vsUMWP-vgNK7f-vw7qtM-48oNPs-gU7ZdD-uCdBDK-vCpYBo-cotjZu-zaeRZL-zyFmTG-hxYbix-hxYeu2-hxXdWw-4ocng8-9GYDfW-9GYCMh-fnvhnq-ouCd1s-9GVKW6-vyNXKh-CQppV-o6Fwae-qjaGvh-cMrdvb-hxXdiN-9QeFvv-owz7t7-ouf3DL-fzJ6x-5yagrx-gpafqb-dFanD1-pM5xyR-vyocNB-df3TKd-z36iiq-wStfH4-wSsS3p-g4kJAQ-u2YnTR-5tAaNR-48jKer-pcLE4d-q1xK26-deVr8f-toa5Z4-fHu6bM-uxFb93-48oLVm-48jMc8